Research for Television, print and radio.
Founded in 1987, and launching to the public in 1988, for 30 years we've been the united voice for Crossroads fans. As well as sharing memories, information and features for the soap-opera's fan base we have also been happy to assist with many press, television and radio companies over the years with their Crossroads-based features.
We have been pleased to research information on the programme as well as its cast and crew and pride ourselves in offering our services free of charge to whoever is looking for Crossroads information in order to provide the hard facts, rather than the myths.
Although the Carlton archive has no official researcher or archivist, we have over the years co-operated with Central Independent Television to voluntarily fulfil that role for independent companies such as UK Gold. In doing so we hopefully have, in a small way, helped protect the serials heritage and archive. The fan club has been given access to Central and ATV documents with many visits to the one-time official archive in Birmingham, in fact for many years the fan club was treated by Central Press Office as Crossroads' research department – passing on all enquiries about the soap to us. This excellent professional working relationship with the production company and their archive department is something we are very proud of.
In recent years the company rights to Crossroads have changed hands many times, however, we hope to continue to liaise with the current owners to provide fans and those seeking information with the facts they require, and to date, we are happy to say this is something we have successfully achieved with the ITV Archive.

We simply haven't the space to list every single edition of every programme or publication we have assisted with over the past few decades, so instead here is a list of some of the main productions.
Central Television – Peter Kingsman helped research the 30th Anniversary Special programme co-operating with the producers at the Central archive in Birmingham. 1994.
UK Gold (UKTV) – Peter Kingsman spent a week at Central TV in Birmingham working through the archive for UK Gold, researching the series for their repeat run of the original. 1996.
Carlton Broadcasting – Peter Kingsman and Simon Cole assisted the continuity department at the Carlton studios in Nottingham to document the factual information needed for the new series. Later the continuity department were sacked, the information un-used, and thus the soap came in for huge criticism for not being "Crossroads" of old. Peter was hired as staff for the duration of this research by the TV company.
Yorkshire Television – We provided basic information to a researcher at YTV. 2001.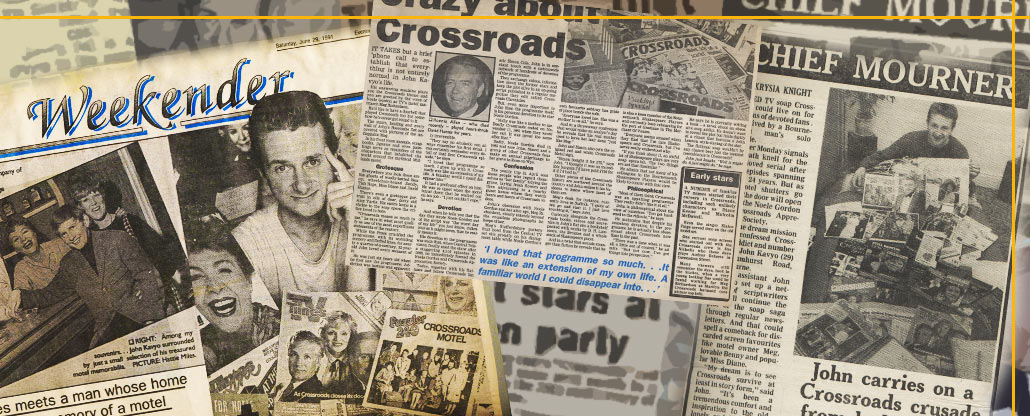 Tyne Tees Television – Working title "Fandom" – A researcher was looking for information on fan clubs and society's with social meetings. 2002.
SC4 – Research into the episode numbers and year of Sandy's car crash – the story that helped start the Caring For Carers. 2002.
Planet 24 – The Big Breakfast – The Former Channel 4 breakfast show wanted some Crossroads fans to appear on the programme. Information and research were carried out for the company. Sadly the show was taken off-air before any feature was produced. 2002.
Yorkshire Television – Soap And Glory – A Channel 4 series, in which one episode looks at Noele Gordon. TV Times covers were requested. We provided a source for the items. 2003.
BBC Television – The BBC Pebble Mill studios were making one of their morning DIY shows, and asked us for information regarding Crossroads props, as they were to film near the hotel's former location. We provided them with some information as to where items could be found. 2003.
Yorkshire Television – How Soaps Changed The World – General information provided to a researcher looking for opinions on why some soaps have been axed. 2004.
Channel 5 Broadcasting – General information provided to Five's continuity for their own research matters. 2004.
SC4  – Research on the Welsh actors who appeared in Crossroads. 2004.
Granada Ventures/Network DVD – Photographs from the fan club archive were used by Granada on the DVD releases of the soap. (The black and white images on the inside of the DVD sleeves. Also some feature in the interview with Sue Nicholls.) 2005.
Granada Television – This Morning – Information requested about the soap-opera for a feature on the DVD. 2005.
LWT – Alright On The Night – ITV50 – Information on Crossroads out-takes provided. 2005.
Endemol UK – Information provided for an unknown production they were working on. 2005.
Yorkshire Television – Un-named programme on wiped episodes of ITV programmes – Information provided on what is missing from the Crossroads vaults. 2006.
Endemol UK – Information about 'sacked' Crossroads actors given to the company. 2006.
Tyne Tees – Information provided about Crossroads and information on the recent previously lost episode finds. For Raiders Of The Lost Archive. 2007.
Unique Television – Noel Edmonds' production company were looking for information on music from the motel, including Paul Henry, Sue Nicholls and Kate Robbins ventures into the music charts thanks to Crossroads. 2007.
Television South – Assisted with the early stages of a production of a DVD about ATV Centre providing information on Crossroads at the studios. 2007.
Hamma Glamma Productions – Assistance with a programme for ITV3, TV Towns. 2007.
Unique Television – Information on ratings for the Christmas episode from 1979 provided. 2007.
Scarlet Television – Information and footage provided concerning the 'endings' to Crossroads in 1988 and 2003. 2008. This later was broadcast on Sky Living as Top 50 Greatest TV Endings hosted by Cilla Black.
Tiger Aspect Productions – Information on Crossroads locations – including Kings Oak (Tanworth in Arden) and the Crossroads Motel (Penns Hall) – provided for a forthcoming ITV presentation 'Drama Trails'. 2008.
ITV Consumer for ITV.com. Crossroads web page information provided such as information on celebrity fan club members, Reg Watson and lost episodes. 2008.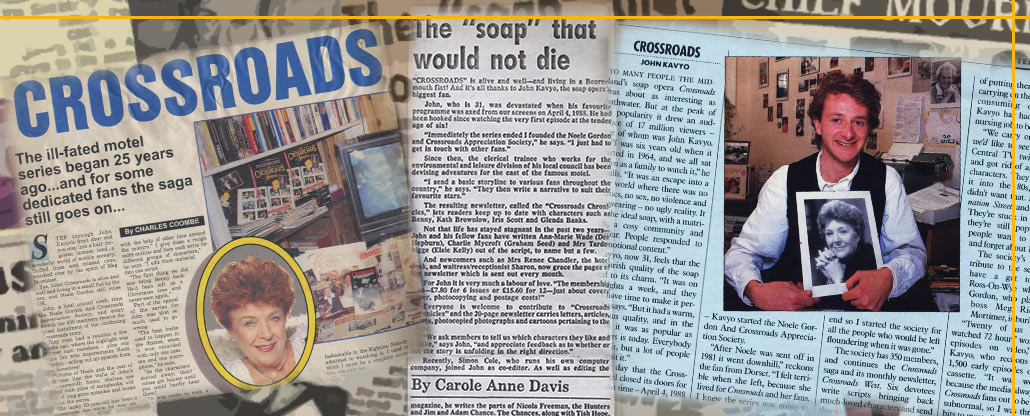 BBC Radio Cumbria – Details on Jane Rossington and Crossroads provided for a Radio Cumbria feature on the soap. 2008.
Northern Upstarts – clips of Roger Tonge as Sandy Richardson in Crossroads provided. BBC Two programme. (Inaccurate and misleading in final transmission.) 2010.
ATV Network – an online special feature looking at the late Roger Tonge. Remembering Roger was created to mark 30 years since the actor's death, look at the Caring for Carers scheme his character helped found and correct the misleading BBC Two programme listed above by Northern Upstarts. 2010.
North One Television – The Unforgettable Noele Gordon. With ATV and the Noele Gordon Estate we provided a host of information on the leading star of Crossroads. We also located several interviewees for the programme. Our key member Peter Kingsman also took part in the production. 2011.
BBC Wales – Welsh Greats: Margaret John. Information provided for this BBC One Wales celebration of the actress Margaret John who played Marion Owen in Crossroads. Details of her storylines and episodes provided. 2012.
The Weekly News – Crossroads Feature. 2014.
Channel 5 – From Soap Star to Pop Star. Information is given to a researcher about Crossroads songs, notably Noele Gordon's releases. 2015.
ATV Network – Return to Crossroads. DVD Documentary on the soap opera. 2017.
Double Yellow Television for ITV3. Shut That Door: Larry Grayson – Information on Noele Gordon and Larry Grayson's friendship provided along with images from the Noele Gordon personal collection. 2017.