Crossroads 'Best Of' General Releases Volumes One to Four
A look at what can be found on the four general sale releases of classic Crossroads. Episodes range from 1966 to 1983. Note that these 1-4 volumes were also repackaged as Crossroads: The Collection box set.
---
Crossroads Volume One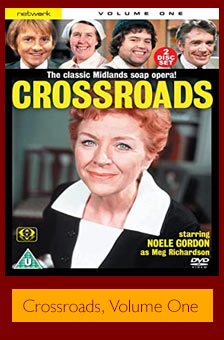 In 2005, to celebrate Crossroads' 40th anniversary, the first of four 'general volumes' were released. Volume One aimed to release some of the better-remembered editions of the soap – although of course due to the archive being very scarce for the early ATV years it ultimately became clear that many of the better episodes were lost forever, so second or third best episodes would have to be used.
The editions featured in this volume are:
Episode 496 from November 1966 – Marilyn Gates is at the receiving end of an unwanted proposition.
Episode 1754 from July 1972 – The motel staff are still in shock over the car crash involving Sandy Richardson.
Episode 1759 from August 1972 – Having been in a coma since the car crash, Sandy finally awakes.
Episode 1895 from March 1973 – Meg Richardson and Hugh Mortimer are to be engaged. Clifford Layton is dumped by Diane Parker.
Episode 2247 from December 1974 – New year at the Crossroads Motel sees Bernard Booth urge Shughie McFee to bagpipe in 1975.
Episode 2301 from March 1975 – Meg Richardson becomes Meg Mortimer as she finally weds Hugh.
Episode 2302 from March 1975 – Meg and Hugh's wedding party is in full swing, with a special performance by Holly Brown.
Episode 2602 from August 1976 – Glenda Brownlow is raped by a truck driver while hitchhiking to Birmingham from London.
Episode 3000 from July 1978 – Shughie McFee and Diane Lawton have a heated moment in the motel kitchen.
Episode 3235 from December 1979 – Meg Mortimer sings for the motel staff and friends in this Christmas day edition.
Episode 3259 from January 1980 – David Hunter and Barbara Brady hold their engagement party at the motel.
Episode 3260 from January 1980 – David, having been shot by his ex-wife Rosemary Hunter, lays unconscious on the office floor.
Extras
Princess Alexandra opens ATV's Broad Street Studios and visits the 'Crossroads' set
Previously unseen 1978 Greek promotional trailer
Episode 3000 'ATV Today' cast interview
Wedding Souvenir magazine PDF
1960's promotional trailers
---
Crossroads Volume Two
The second release saw a further twelve classic episodes from the 1960s to the 1980s released on a double-disc DVD set.
The editions featured in this volume are:
Episode 497 from November 1966 – Kitty Jarvis is concerned about her sister Meg and her involvement with a 'saucy artist' after a revealing picture appears in the local paper.
Episode 986 from November 1968 – Edith Tatum is recuperating in hospital after her operation, only Tish Hope is making sure Edith's time is far from relaxing.
Episode 1009 from January 1969 – Meg Richardson faces up to the fact that she is likely to go to prison for dangerous driving, having knocked postman Vince Parker from his bicycle.
Episode 1366 from September 1970 – A mentally ill Midlander, known to the police, suggests to motel staff that he has planted a bomb in the kitchen. Bernard Booth makes for a swift exit.
Episode 1674 from March 1972 – Amy Turtle and Edith Tatum end their feud, while Wilf Harvey finds himself a new dancing partner.
Episode 2451 from December 1975 – Christmas day in Kings Oak sees the village unite in church before the motel directors and friends enjoy a hearty meal. Ted Hope, however, isn't in such a festive mood over in Birmingham.
Episode 2821 from September 1977 – Anthony Mortimer tries to build some bridges with his step-sister Jill Harvey by inviting her out for an evening meal.
Episode 2868 from December 1977 – Benny Hawkins is distressed over the condition of his bride-to-be Maureen Flynn after she was knocked from her bike by a speeding car.
Episode 2869 from December 1977 – Motel secretary Kate Hamilton decides celebrates the new year with potential new love Tony Moran. David Hunter takes Kate's daughter Lucy to one side and offers her some blunt advice.
Episode 2870 from December 1977 – The festive season is brought to an abrupt end as news of the death of Maureen Flynn spreads to the motel. Jim Baines and Sharon Metcalfe pass the time at the motel bar.
Episode 3530 from November 1981 – The day before bonfire night sees the Crossroads Motel engulfed in flames as an inferno takes hold. Jill Harvey is concerned that Meg Mortimer, her mother, is in the blazing building.
Episode 3831 from August 1983 – Jill Harvey and Adam Chance finally tie-the-knot after an on-off romance.
Extras
More of the 1960s promotional trailers
Sue Nicholls, in a specially made recording for the DVD, discusses her time on the Midland soap from 1964 to 1969
From 1994, the Crossroads Appreciation Society and Jane Rossington present, 'Crossroads 30 Years On' – a documentary looking at the soap's on and off events.
Back to the 1950s with the only surviving edition of ATV's Lunchbox daytime entertainment show with Noele Gordon
---
Crossroads Volume Three
The third release saw a further twelve classic episodes from the 1960s to the 1980s released on a three-disc DVD set along with an omnibus edition of four episodes from 1976.
The editions featured in this volume are:
Episode 498 from November 1966 – Bill is dissuaded from marrying Marilyn, which is what she wants. Sandy worries about his best man speech. A race to save Angela's sight is on.
Episode 1192 from November 1969 – Archie comes to an arrangement with Diane. Meg is confined to bed after being taken ill at Tessa's wedding. Is her illness all it seems to be?
Episode 1304 from May 1970 – Amy, Diane and Mr Lovejoy consider the prospect of winning the pools. George Baxter returns unexpectedly with consequences for Claire Thomas.
Episode 1758 from August 1972 – Meg still grieves over Sandy's accident and the ward sister asks David for help. Vince tries to reconcile with his father. Tish accepts Ted's proposal.
Episode 3051 from November 1978 – Meg confronts the financial implications of Hugh's death. Benny has ambitions to become a car mechanic.
Episode 3069 from December 1978 – Helen decides to leave the motel and her husband. David reads the lesson at the Christmas service. Jill, David, Tish, Ted and Adam join Meg for Christmas lunch.
Episode 3140 from April 1979 – Diane fends off Chris Hunter's advances as their marriage-of-convenience reaches its conclusion. Linda Welch causes trouble at the garage. Benny explains himself to Doris.
Episode 3254 from January 1980 – Jill needs money and looks for work. Lloyd Munro attempts to reunite Charles and Rosemary. David proposes to Barbara.
Episode 3295 from April 1980 – The morning after David and Barbara's wedding sees Adam call off his own to Miranda Pollard which in turn jeopardises his business plans. Benny dispenses advice on fruit and veg.
Episode 3359 from September 1980 – Archie comes in conflict with Shughie when he becomes Night Porter. Barbara agrees to talk to Alison about marrying Benny. Arthur Brownlow frets about Glenda's first date with Kevin Banks. Shughie vandalises the kitchen.
Episode 3531 from November 1981 – The morning after the motel fire and the search for Meg continues. Barbara changes her mind about leaving David.
Episode 3533 from November 1981 – The police suspect Adam of involvement with the motel fire. An unexpected phonecall sets Jill off on a trip to Southampton.
Special Feature Disc Episodes 2523-2526 – omnibus edition – Two decades after being involved in the massacre of innocent civilians in Malaya whilst on National Service, David Hunter's past catches up with him when he is stalked by the sole survivor… A strange man turns up and offers Benny a lot of money. Miss Diane is concerned.
Extras
Format V: A special edition of the ATV regional affairs series sees Noele Gordon in a question and answers session with fans and critics
A final batch of original 1964 pre-launch promotional trailers
Viewpoint: Reg Watson at Crossroads rehearsals is asked why viewers have been left baffled by a hole in the reception's wall.
Noele Gordon talks about winning the 'ITV Personality of the Year' award.
Crossroads cast interviewed at 3000th edition party in 1978.
Three ATV News Features on Meg leaving Crossroads for the final time in 1981.
---
Crossroads Volume Four
The final 'general sale' release of Crossroads. Another twelve episodes spanning across the decades from the 1960s to the 1980s.
The editions featured in this volume are:
Episode 499 from 1966 – Sandy Richardson is in court over Edith Tatum's dog, Jupiter, which has been accused of sheep worrying.
Episode 1756 from 1972 – Meg Richardson is shocked to learn that Sandy will never walk again.
Episode 2173 from 1974 – Wilf Harvey rows with his new wife, Myrtle. Vera Downend is far from impressed to discover that while on holiday Diane Parker has moved away.
Episode 2930 from 1978 – Meg Mortimer hears an amazing revelation from secretary Phoebe Tomkins while Chris Hunter is at the receiving end of Meg's wrath.
Episode 3044 from 1978 – Doris Luke seeks employment at the motel, however, Bernard Booth has other ideas. Despite Shughie McFee's best efforts, it seems Doris has ruined any chance of a future job when she unwittingly airs her distaste for Bernard in front of his wife, Helen.
Episode 3079 from 1978 – Jill and Stan Harvey gear up for a battle over their daughter Sarah Jane while Shughie McFee has ambitions to serve gourmet food in the motel restaurant. Doris Luke is unimpressed with Benny Hawkins' obsession with a car.
Episode 3100 from 1979 – Sandy Richardson has a heart-to-heart with sister Jill. Tish and Ted Hope learn how Lloyd Munro's daughter likes to tease. Doris Luke is unimpressed with Glenda Brownlow's current boyfriend.
Episode 3101 from 1979 – Shughie McFee claims to be a hero, but is there more to his story than he's letting on? Rosemary Hunter learns that her son Chris has been involved with a gang of international terrorists, who were to blame for the death of Hugh Mortimer.
Episode 3203 from 1979 – The custody battle over Sarah Jane Harvey finally is heard in court. Jill takes the stand, as does Lloyd Munro and Jill's one-time lodger, Norma Cooke. Things are looking up for Stan after the first hearing.
Episode 3204 from 1979 – Reg Cotterill is disgusted when Benny Hawkins buys Alison a new dress. Jill Harvey decides the only option is to run away and take Sarah Jane with her.
Episode 3207 from 1979 – Concern grows for Jill and her whereabouts. Sandy Richardson is given a painting, while Meg Mortimer hears why it would be best for Sarah Jane to live in Germany with Stan.
Episode 3364 from 1980 – Kevin Banks and Glenda Brownlow enjoy another date – and finally, share their first kiss. Reg Cotterill and Benny Hawkins come to blows over Alison while Jill Harvey regrets her latest one-night stand.
Extras
Noele Gordon Visits an ATV Transmitter 6 February 1958
Noele Gordon Anti-Smoking Interview 9 March 1972
Crossroads Team Pay Tribute to Roger Tonge 26 February 1981
Noele Gordon Shows Reporter Tony Maycock Around Her Home 21 January 1983
The Hunters And The Banks Are Dropped From Crossroads 14 January 1985
Dee Hepburn Joins Crossroads 19 April 1984
"Goodbye Meg" PDF
---
Sleeve and artwork ©Network Releasing.