Soapstar to popstar really took off in the late 1980s thanks to Reg Watson's other hit serial Neighbours and Kylie and Jason.
However the Brit sagas have had their fair share of pop records too and for Crossroads, it all started with Sue Nicholls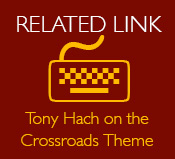 Sue departed the motel in 1968 to become a pop-star making her the 'original Kylie'. The first 'Jason' was actor Chris Sanford who became a 'pop-star' within Coronation Street in 1963 – and went on to have chart success outside of the serial too.
Short-lived her music career may have been, but she was the first female to be a hit in the pop charts with a 'pop song' thanks to a television serial. (Some of the Corrie ladies had released singles before 1968, however they were not in the slightest pop).
Let's take a look through the motel music from chart success to album releases and even tribute songs to Crossroads…
---
Sue Nicholls, Where Will You Be? / Everyday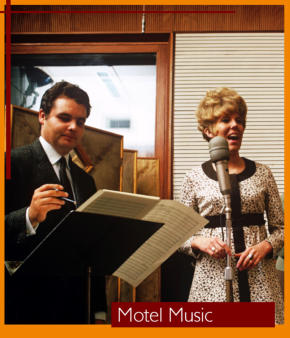 When the regular singing act didn't turn up one night to a Birmingham nightclub motel waitress Marilyn Gates, who happened to be on a night out with some of the Crossroads Motel staff, stepped in as a singer with the song "Where Will You Be". Her singing success saw the character land a record deal (as a talent scout just happened to be in the nightclub).
The characters song was "Everyday", which she played to her motel co-workers in Meg's sitting room, much to their delight. They both were released (with Everyday as the B-side) reaching number 17 in 1968.
Sue later left Crossroads to become a real-life pop singer, however, it wasn't to be. Sue, since 1979, Audrey Roberts in Coronation Street did, however, go on to many other memorable telly shows including ATV's Pipkins, LWT's Not on your Nelly, BBC One's The Rise and Fall of Reginald Perrin and kids show, Rentaghost.
---
Noele Gordon, Noele Gordon Sings / Goodbye / After All These Years / To My Daughter
For 17 years Noele *was* Crossroads to many people. She can be noted here for firstly an album of classic songs entitled Noele Gordon Sings, this was released in 1976 by EMI and recorded at the famous Abbey Road Studios. The backing music was provided by Geoff Love and his Orchestra.
As 'Meg' in the soap, she had also performed a number of songs in the series over the years, including in 1969 'Don't Sleep In The Subway' a Tony Hatch penned song originally sung by Petula Clark and at Christmas of 1972 'Getting To Know You' from the musical The King And I.
In 1978 and 1979 Christmas songs were also performed by Noele in the series during festive specials. She also released a couple of singles. The double A-side 'After All These Years / Goodbye' (1981) and For My Daughter; we assume to be Meg singing To Jill! (1974)
Before soap opera, Noele had also appeared on a couple of 1940s recordings of West End theatre show album tracks and 1963's Lunch Box album from her popular magazine series.
---
Paul Henry, Benny's Theme / Waiting At The Crossroads
He released "Benny's Theme" with the help of the Mayson Glen Orchestra in 1978. Not exactly a song, more of a monologue of Benny's love for his ill-fated girlfriend Maureen this song had an instrumental version as its B-side and subsequently has become more popular, issued on a CD in its own right.
A less successful single Waiting at the Crossroads was released in the early 1980s.
---
Simon May, The Summer Of My Life
May worked for ATV in the music department, where he helped create a number of the Crossroads songs (Born With A Smile On My Face and More Than In Love were two of them). However, he also had a minor hit himself in 1976 thanks to Crossroads.
'The Summer Of My Life' was used within many episodes surrounding the story of the time which featured that of Bob Powell going blind while his marriage also falls apart. It reached number 7 in the pop charts. The version used on the soap was a different arrangement to the one released as a single. The series also used the instrumental regularly within scenes.
A follow-up single, We'll Gather Lilacs didn't have quite the same success despite being a great version of the classic song. His final ATV hit for Crossroads was More Than In Love in 1981. May later moved to the BBC where he devised themes for such shows as EastEnders and Howard's Way.
Stephanie De Sykes, Born With A Smile On My Face / We'll Find Our Day / It's Been A Long, Long Day
Stephanie had a 1974 hit "Born with a Smile on My Face" after the song featured heavily in Crossroads. She played Holly Brown, a singer who had checked into the motel suffering from a breakdown. She, however, managed to recover from her mental problems in fine time to sing at Hugh and Meg's wedding reception.
These songs "We'll Find Our Day" and "It's Been A Long, Long Day" featured on the Crossroads Wedding Party album, although the former has also appeared on a 1970s 'best of' CD – complete with Noele Gordon and John Bentley doing a smoochy speech in the middle! The songs were written by Simon May.
---
Rondo Veneziano, Sinfonia Per Un Addio (Venice Theme)
Released in 1983 as 'Venice Theme' due to its use on the episodes set in Venice featuring Jill and Adam on Honeymoon and the surprise return for two episodes of Noele Gordon as Meg.
The music is actually called Sinfonia Per Un Addio. The tune was also used by ITV for their autumn trailers of 1983. Speaking on TV-am Noele Gordon revealed she had suggested the music to producer Jack Barton.
---
Shona Lindsay, Goodbye
Central Television released "Goodbye" in 1988 to mark the ending of the first series. The song was not a cover of the Noele Gordon single from six years earlier; it was, in fact, the 1987-1988-theme tune with again music performed by Max Early and Raf Ravenscroft.
The theme had been revamped into an electric guitar style pop version, however, Lindsay – like Noele Gordon – was more suited to theatrical performances and this is how she performed the lyrics.
---
Bill Buckley, Meg Is Magic
Now a well-known radio and TV presenter, Bill Buckley at the time was a newspaper reporter for the local Express And Star. But in the summer of 1981 Bill released a record called 'Meg Is Magic.' It was one of many Crossroads fans campaigns to save Noele Gordon from being written out of the soap.
Bill, along with fans of Noele's character Meg Mortimer, protested outside ATV Centre in Birmingham, all waving 'Meg Is Magic' banners and singing this song. Over 100 fans turned up to support the actress. It didn't save Meg, but it did give Bill some early television fame appearing on ATV Today.
Bill told CAS how he bankrupted the record company with "Meg Is Magic" as they made thousands of copies expecting a huge demand for the single. The track, however, didn't sell well, despite backing from the national press, local radio stations and even Radio 1 and Radio 2.
---
Carl Wayne, The Crossroads Theme – Standing At The Crossroads
Carl Wayne arrived in Kings Oak as Colin the Milkman and found himself singing a little tune within the programme, it appeared at the end of the episode directly before the wedding of Vince Parker (Peter Brooks) and Diane Lawton (Susan Hanson). The music was the regular Crossroads theme and the scenes showed Carl walking around Sutton Park, Sutton Coldfield, singing the song (episode 1500). Vince and Diane also featured in the footage.
You can see the main original lyrics lower down on this page, as written by Peter Ling.
---
Kate Robbins, More Than In Love
Robbins appeared as Kate Loring in 1981, and with the help of Chris Hunter recorded a song in the basement of the motel. She performed the song a number of times, including on Adam Chance's boat!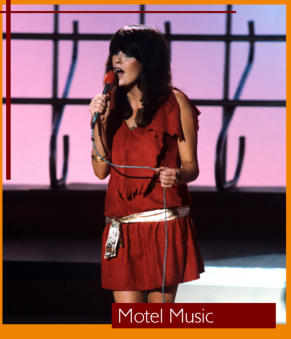 The song "More Than In Love" was a huge hit reaching number 2 in the UK charts. Kate is now better known now as a comedian and impersonator, she became a regular voice on Central TV's Spitting Image satirical series and hosted her own comedy series in 1988. She has also popped up in BBC Birmingham soap, Doctors – however, there wasn't any singing involved this time. This was penned by ATV music writer Simon May.
---
Crossroads Cast, The Wedding Party album
The album is worth having just for the fact there is a stereo remix of the 1965 Pye single of the theme tune on it. Most tracks are all the cast having a good old fashioned sing-a-long, however a duet by Noele and John Bentley feature as well as both of them getting to do a solo song each.
There are also two tracks by Stephanie De Sykes on the album. Cast at the recording includes Larry Grayson, Jane Rossington, Susan Hanson, Elisabeth Croft, Peter Brookes, Ann George, Roger Tonge and Ronald Allen.
---
Ian Paterson, The Scottish Collection
With the popularity of Crossroads in 1965, this release was the first not to be issued in connection with the programme directly. The actor Ian Paterson, who played Meg and Kitty's brother Andy, was hired to record an album to 'cash in' on the characters Scottish background. The album was released by Thistle Records and contained songs such as Marching Through The Heather, The Northern Lights of Aberdeen and Afton Water…
---
Allen and Blewitt, I'm Gonna Watch Crossroads
From the same people behind 'The First And Last Noele (see below) came this 'tribute' to the programme. The same 'Brummie accent' talks his way through his love of Crossroads which contains a reggae-style version of the theme and a little nod to Coronation Street at the end. EMI Records released it in 1981. 'EMI 5192' is its code number. Only worth buying if you like songs that sound like they're playing at the wrong speed when they're not.
"I'm gonna watch Crossroads kid, I tell you why, cos its number one." included in the lyrics.
---
The Gay Gordons, The First and Last Noele
Another from 1981 in celebration of the leading star of Crossroads, Noele Gordon. Released by Street Corner Music, the sleeve of the record was a copy of a tabloid newspaper with the headline 'Goodbye Meg!'
The vinyl was released in the UK by Gull Records. Again the same voice as heard on I'm Gonna Watch Crossroads at an equally odd slow sounding speed. Lyrics include, 'Noele, Noele I guess you miss the old motel. You're at the Crossroads of your life and we all wish you well."
---
Kathy Staff, Benny
From the tiny independent record label Monarch, an attempt to cash in on the popularity of Crossroads character Benny Hawkins played by Paul Henry.
Paul himself, as noted earlier, had tried to make music of his character in song a few years earlier but it was co-star Kathy Staff in 1983 who turned to monologue and music to pay tribute to her favourite lad.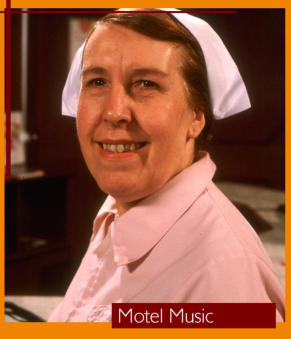 Written, produced and arranged by Mike Sammes Kathy spoke the story of Benny in 'character' as Crossroads Motel cleaner and friend of Benny, Doris Luke. In the same year, Staff teamed up with Last of the Summer Wine co-star Bill Owen to record another song.
Nora Batty's Stockings concerned Kathy's sitcom character and the admiration for her by Compo played by Owen. The pair performed it live on Saturday Superstore, on BBC One. Sadly, or thankfully, Kathy never performed her tribute to Benny live on TV.
---
The Toy Dolls, Glenda And The Test Tube Baby
The first test-tube baby in soap even has a funky little track about it. Glenda and Kevin and their 'test-tube baby' form the content of this song by The Toy Dolls. When performed live the audience sing the chorus! Lyrics include "Things were looking gloomy and Glenda she was sad, Kevin had been out with Carol Sands, but Glenda she thought surely, it can't be that bad, if I had a baby…"
---
Skids, TV Stars
A headbanger of a punk track from Virgin Records that features the names of popular telly characters of the 1970s including from Coronation Street Albert Tatlock, Ena Sharples and Annie Walker. From Crossroads you can shout along to Meg Mortimer and Sandy Richardson.
---
Graham Whettam – Race With Time
This old track from the 1940s was famously used in Crossroads as Jill (Jane Rossington) rushes to the QE2 liner to say her farewell to Meg (Noele Gordon) who has quit the motel for a new life in America.
---
Theme Tune Lyrics Standing At The Crossroads
Performed by Carl Wayne, lyrics written by Peter Ling.
# I stand at the Crossroads, without you beside me, there's no-one to guide me, which way will I go?
# Gone, lost on the breeze, drifting like a cloud way up above me, that was love, so hard to please, flying like a bird, far, far away.
# My life at the Crossroads, my dream far behind me, of love, long ago.
# Now where is our song of love, where are all the words saying you love me, tho' the road's winding and long, maybe you'll be here with me, one day. # My life at the Crossroads, my dream far behind me, so much to remind me, of long long ago.
# We'll meet at the Crossroad, then promise forever, we'll make it together, wherever we go.