Since our launch in 1988, we've been very lucky to have huge support from many of the cast and crew. We've also had a few famous names join up too…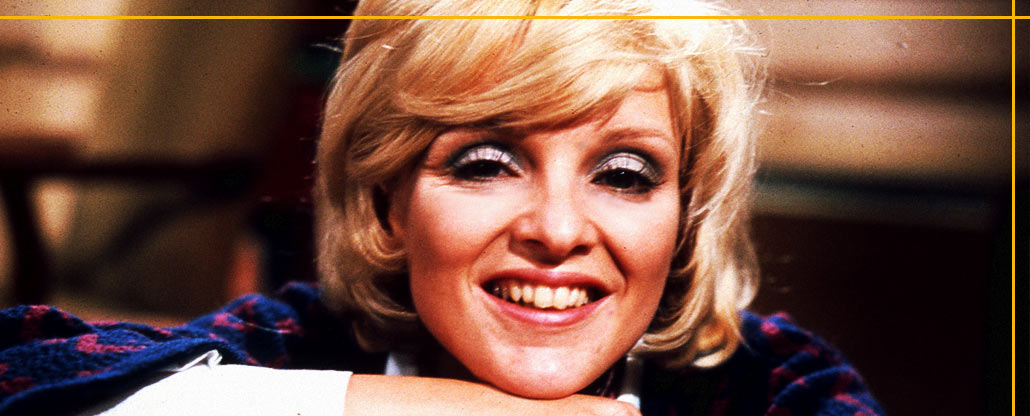 Jane Rossington
Jane Rossington is the only Crossroads cast member to be in the first episode and last episode of the now-classic series. Jane was no stranger to television soap when the daily serial started – she had already played the part of Kate Ford, a nurse in the ATV London based Emergency Ward Ten series. But it was as Jill Richardson that Jane would become a household name, and for 24 eventful years, Jill would be part of tea-time viewing on ITV.
Jane was born Jane Patricia Rossington in Derby in 1943. Her older brother, born in September 1932, was the Reverend John Anthony Rossington – who hit the local headlines back in the 1960s when he devised a four-point birth control plan aimed at ending the population explosion. It included sterilisation for very large families. Reverend Rossington first became a well-known figure while at the Holy Trinity Church in Smethwick during the 1960s, here the Crossroads wedding of Brian Jarvis to Janice Gifford took place.
John was the Reverend within the programme, which led to press speculation the two actors were really married. Reverend Canon J A Rossington moved to St.Faith and St.Laurance in 1968 where he remained for twenty years until his untimely death aged just 55. At this church, Reverend Rossington also conducted the funeral of Crossroads actor Roger Tonge, who died from cancer aged just 35 in 1981. Jane Rossington married fellow Crossroads professional, director, Tim Jones in 1965. He later left ATV to work for Granada in Manchester on Coronation Street and with so many months apart the marriage failed. However, Jane found happiness with her second husband, chartered surveyor, David Dunger. The couple united in 1972.
"I'm glad my own life hasn't been as eventful as Jill's. Jill was a bit of a chameleon. She would wake up a different character, often because we had new writers."
She has two grown-up children, Sorrel and Harry – the former playing the part of on-screen daughter Sarah-Jane from 1974 to 1983. In recent times Jane has taken life a little slower, retiring from acting in 2020. However, for many years she continued to perform if the role appealed, she had the luxury of being able to pick what kind of work she wanted to do after the demise of the old motel in '88. In 2000 she returned to the re-launched Crossroads Hotel.
"I was just incredibly curious about what it would be like, and also I felt I owed it to Nolly to come back. I was very excited when I found out that it was being brought back because I felt that at long last Noele up there in heaven would feel vindicated."
Jane has criticised ATV and Central for not giving Crossroads the backing it deserved. "It's only Crossroads." is how the television companies viewed the series, she believes. In the early years of the show, Jane also used to rush off to the BBC studios in Birmingham to record the radio soap – The Archers. She also would often have many weeks leave to do other programmes and stage work. Television work included the 1990 ITV drama Tide Race, where she played the mother of a Down's child. She also appeared in Channel 4 serial Brookside in 2000 where she played 'cousin Jill' who made her money in the hotel business. There were many theatre tours including recently appearing, to great critical reviews, in The Snow Queen.
Jane also for a number of years fronted her own radio programme on a commercial regional station. She has been the Crossroads Appreciation Society's main patron since April 1988.
Peter Ling
Born 27th of May 1926, in Croydon Surrey. He was the only child of Theodora, a schoolteacher and Fred Hugh, a member of the Magic Circle who appeared in a concert party. A pupil at Whitgift Grammar School, Peter was an Ovaltinie, performing on the children's radio show. His first piece was published in Good Housekeeping at the age of 13. His first novel, 'Voices Offstage' was published five years later.
During the Second World War, he was a Bevan Boy. Peter was tall and slightly built so was considered unsuitable for underground work. He spent the long train journeys to Nottinghamshire reading Jane Austen. He subsequently served in the Pay Corps, and on demobilisation, he was found to have TB. In the sanatorium, he started writing for BBC radio as well as providing the 'Three J's' text stories for the Eagle comic. He moved on to the new medium of children's television, writing 'Whirligig' in 1950, a children's programme which included puppets, music from Steve Race and Edmundo Ros, and on which (now disgraced) Rolf Harris made his TV debut.
Sheilah Ward, an aspiring actress on the programme, was to become Peter's wife in 1954. He also wrote 'Happy Holidays', starring Hattie Jacques, John Le Mesurier and Clive Dunn. Peter became Children's Script editor at Rediffusion, as it then was; but also indulged his love of detective stories as a regular writer for one of the 1950s top series, No Hiding Place. He also wrote episodes of Dixon of Dock Green and The Avengers.
Peter hawked songs round London's tin-pan alley and in 1961, a single for Matt Monroe 'Why Not Now' reached the charts. The 1960s saw a prodigious TV output including Champion House, Sexton Blake, and the Mind Robber episodes of Doctor Who. Hazel Adair knew Peter from children's slapstick programme Rumpus Point and asked him to work with her on a new series Compact, which was a twice-weekly dramatisation of life on a glossy magazine. Whilst that was still running, Lew Grade asked the duo to write a new daily serial for ATV. He wanted them to develop another writer's idea for a series set in a boarding house, but Peter and Hazel were not keen.
Grade told them they would have to convince him that they could come up with something better and over the weekend they devised Crossroads, centred around the much more glamorous concept of a motel, which starred Noele Gordon as Meg and was tea-time viewing for millions four days a week from 1964 until 1988. Peter was aware of the criticism of the programme for its wobbly sets and lack of rehearsal, later affectionately parodied by Julie Walters and Victoria Wood in Acorn Antiques. After Crossroads finished Peter found it difficult to get work in television, so he went back to radio. He wrote a number of single plays as well as adapting Sherlock Holmes stories, and Arnold Bennett's novel, 'Imperial Palace'. The cast of his Crown House series, an aristocratic family saga, included Martin Jarvis, Jane Asher, Margaret Rawlings, Dinah Sheridan and Gayle Hunnicut. A trilogy of romantic costume novels was a big success in the USA and bought by CBS-TV for serialisation. Peter's last novels drew heavily on his childhood and the Second World War period.
Peter became our honorary patron in April 2002.

This feature on Peter was written by Vicky Ling, Peters daughter.
Peter Dalton
Peter Dalton has been a member of Carlton's Junior Television Workshop since 1990 and auditioned for the part of kitchen hand Des White as well as Minty as both Minty and Des were originally planned to be from ethnic backgrounds. However, Marc Jordan got the part of Des and Peter was offered the role of Minty. Before landing his lead role in Crossroads, Peter had appeared as a walk-on in other Central Television productions such as their drama Peak Practice and sitcom Barbara.
After leaving Crossroads Peter had a successful stint in West End theatre productions before returning to television in 2008 on BBC Three, where he starred in one of their youth-aimed sitcoms – Trexx and Flipside. More recently Peter joined the line-up Capital Dance as MistaJam, his DJ alter-ego previously heard on BBC Radio 1 and 1 Xtra.

Our long-running brand Return To Crossroads welcomed Peter Dalton as Patron of the site in November 2001. Speaking in 2001, Peter told us: "Good Afternoon, Good Evening and Welcome to Crossroads! I'm Pete Dalton aka Minty, and when Ian asked me to become a patron of this, the first website I found when I found out I had been given a part in the new show, I was more than honoured. Thanks to all of you, even "Tish" [a long-running regular on our forum], wherever she is right now! for the tremendous amount of support you have given the show. Keep up the good work!"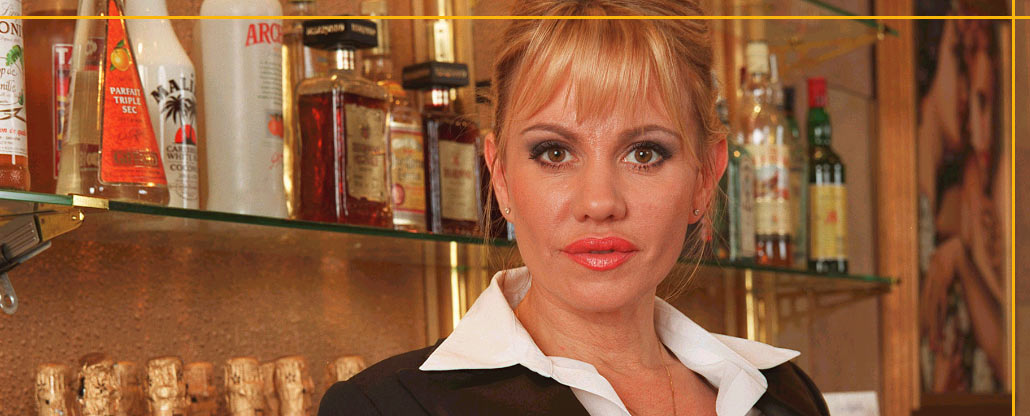 Cindy Marshall-Day
Cindy is one of the most popular actresses from the Carlton revival of Crossroads, which was in production between 2000 and 2003. Cindy played the glamorous Tracey Booth, who's many storylines were a major part of the daily daytime soap.
The character went from unhappy wife to suicidal alcoholic and later even bar manager! Today Cindy is a shrewd businesswoman with many interests away from the limelight. Along with her jet-set husband, Cindy also likes to travel and the couple has homes in America as well as the UK.
When in the UK Cindy has occasionally returned to television when her schedule allows, most recently Cindy has been seen working as a television presenter on Sky. Presenting isn't new to Cindy however – her television career stretches back to her late teens when she was a co-hostess on the primetime version of game show The Price Is Right. Hosted by Leslie Crowther the series became a must-see show in the 1980s. She has also starred as an actress on ITV before Crossroads appearing as a busty secretary in Fiddlers Three alongside Peter Davison, Paula Wilcox, Peter Blake, Charles Kay and Tyler Butterworth in 1991, she also popped up in EastEnders as one of 'Dirty' Dennis Watts lovers and in 1988 she starred in the Central Television comedy Hardwick House.
There have been many press interviews featuring Cindy over the years and in each and every one of them you can clearly see that Cindy is highly successful in all her ventures, but isn't starry about any of it. She's down-to-earth, frank talking and open about her life. This is a true star, and that is why we are proud to be associated with Cindy… In March 2006 Cindy accepted our offer to be the patron of our social media which is supported by all the major Crossroads based websites. The main aim of the network to provide a single meeting place, originally a forum – now the debate takes place on Facebook .
Honorary Fan Club Members
Joy Andrews
Joy was the divine Tish Hope from 1966 to 1980. In the show, she was a one-time part-owner of the motel but later settled down in the village Antique Shop, The Hope Chest, with her second husband Ted. Her son in the series was the Rev Peter Hope (Neville Hughes) and her daughter-in-law was Marilyn – played by Sue Nicholls now of Coronation Street fame.
Joy as an actress had a long and distinguished stage career before finding television fame at the midland motel. Joy was the first special member of the fan club, she was proud of Crossroads and had many happy years starring as " Meg's best friend." The very last photograph of Joy before she died is a fan club snap – seen here for the first time.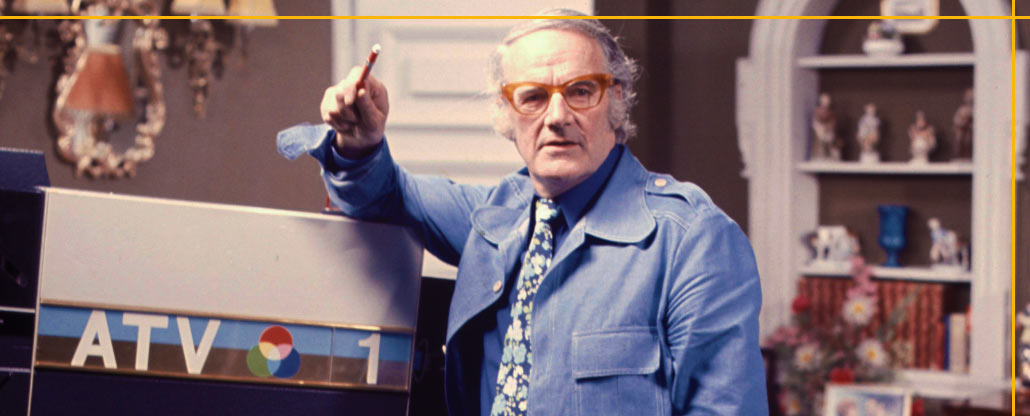 Jack Barton
Jack oversaw Crossroads as a director and producer during its best rating era. After his retirement from television in the 1980s, he still found time for Crossroads, visiting the fan club office on several occasions. He also donated some of his personal Crossroads archives to the club, including the layout drawings of the motel. Jack first joined Crossroads at its launch as one of several rotating directors along with, to name only a few, Alan Coleman and Tim Jones. After a brief spell away from ATV in the late 1960s, Jack returned to the programme, once more as a director. When in 1974 producer Reg Watson decided to quit the show for pastures new – namely with Grundy Television in Australia – Jack was promoted to producer.
Larry Grayson
Larry starred in the soap a number of times in the 1970s after becoming firm friends with Noele Gordon. He became a member in 1988 after hearing about the fan club launch on a BBC Open Air television special about Crossroads which Larry appeared on along with society founder John Kavyo. Crossroads was Larry's favourite soap – being brought up in the Midlands himself in Nuneaton.
Larry hit the big time in 1972 – in his forties – after appearing on ATV live entertainment series Saturday Variety. It was on this show he first worked with Noele and their friendship was formed. Larry first appeared in Crossroads as himself, a disgruntled celebrity motel guest. He returned as a surprise Santa at Christmas and later appeared as a chauffeur at Meg and Hugh Mortimer's 1975 wedding. Larry became best know in the late 70s and early 80s as host of The Generation Game, in an era of the show which saw its best-ever ratings.
Over the years Larry was regularly in touch with the fan club via letter, signing off with "keep smiling, always."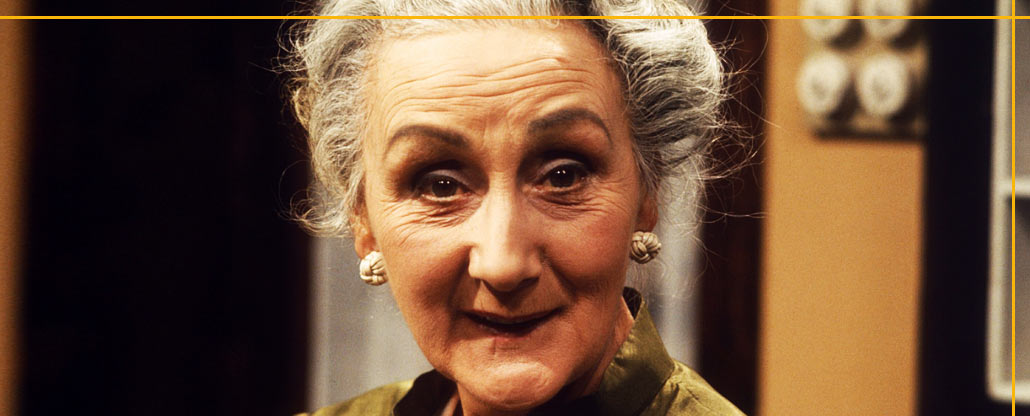 Elisabeth Croft
Elisabeth had, before television, been a much respected classical actress appearing in many Royal Shakespeare Company productions. Crossroads provided her with her first television experience in 1966 after more than 40 years on stage. In the daily saga set in the village of Kings Oak, she played Edith Tatum, who at first was a recluse living on her own with many animals for company. She later was coaxed out of her lonely world when she took on the role of village postmistress between 1968 and 1978.
"Miss Tatum didn't suffer fools gladly and was a bit sharp at times, but she was a wonderful character,"
On-screen Edith had a long-running love-hate relationship with village gossip, the comedy character of, Amy Turtle. However, the on-screen distaste was a very real feeling towards the actress behind Amy – Ann George.
While intended to be a bit of a joke character, Croft along with many critics found the whole Amy Turtle experience bewildering and tone lowering for the programme. Croft left the show as a regular in early 1979, before returning for guest spots at Christmas 1979 and for a wedding edition in 1983. In 1994 Elisabeth Croft officially opened the new Crossroads Appreciation Society offices.
Arthur Schmidt
In recent years former Crossroads writer Arthur joined us. The American writer moved to the UK for a long spell, writing on the ATV, and later Central, saga from 1975 to 1985. After Crossroads he wrote episodes of BBC drama Howard's Way. Now based back over in the states, Arthur resides in Califonia but shares his memories of Crossroads with other fans on our social media pages.
Neil Grainger
Neil played Phil Berry in the Carlton era Crossroads and became one of its most popular personalities. Despite much success since those Midland hotel days, Neil has continued to be proud of his time on Crossroads and joined us to share his memories on our social media pages.
Victoria Wood
It had been known for Victoria to use the fact she's a member of the Crossroads Appreciation Society in her stand-up routine, however its the hommage to Crossroads (and other serials of the 1970s) in the form of Acorn Antiques that most fans know her for. Wood, despite what some newspapers write, does not knock or mock Crossroads – and all motel jokes are done for her love of the series.
Victoria when made aware that CAS members were in the audience of her theatre gigs was known to throw in some Crossroads material especially for us!
Keith Lascelles
One of the floor managers at the ATV studios Keith worked on Crossroads during the Noele Gordon years and became one of her many friends from her television days. Keith was one of the first members of the Crossroads crew to join us back in 1987. Keith appeared in 2012 on ITV to talk about Noele on their celebration of the actress and presenter in The Unforgettable Noele Gordon. Other programmes he worked on as a floor manager include game show Bullseye and satirical series Spitting Image.