The Noele Gordon and Crossroads Appreciation Society key team members, past and present.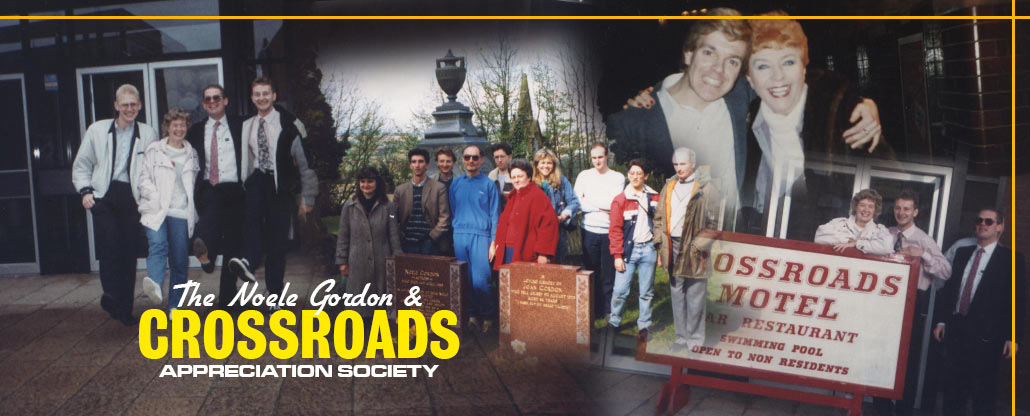 John Jameson-Davis (aka John Kavyo)
Role: Appreciation Society Creator
A Few John Facts: I was born in Bournemouth in 1958 and now live in a Wiltshire village. I nursed cancer patients for years and am now training to be a handwriting analyst/counsellor.
Memories: I watched from Day One with my sisters and vividly remember those fuzzy black and white days with Meg, Kitty and Dick, Carlos and Josephina, Marilyn and Diane, Vince Parker, Amy Turtle, Tish Hope and Miss Tatum. Meg was my absolute favourite with Kitty and Tish coming second and third. I loved Diane as an older sister.
The most memorable early memory I treasure is when Carlos fell in love with a female ghost 'out the back' behind the motel kitchen. When she lived she had loved a man and something tragic had happened. Her name and his were carved on a tree. Carlos was upset that workmen uprooted the tree, exposing a wartime bomb. This exploded, destroying the kitchen. Meg, Mrs Cornet (a fishwife of a cook) and Diane were in the kitchen at the time. I recall a terrible BOOM and the set blacked out as the credits came screaming on. The picture at the end showed an unconscious Meg and Diane sprawled out amidst the wreckage of the kitchen with sauce or gravy spilled all around them.
In those black and white days it looked like blood. This happened on a Friday so we had to wait a whole weekend to see what happened. On Monday the ever capable Meg dusted herself down and found a dead Mrs Cornet (not shown under the strict IBA regulations) and a very shaken Diane. Meg was worried about her and put her up in one of the chalets for a few nights. One night Diane was all alone in the chalet when she was awoken by the door opening mysteriously. She reached for the phone to call Meg when the phone flew through the air across the chalet. We, viewers, realised it must be the ghostly woman but Meg sent Diane to the hospital where she was found to be suffering from slight brain damage due to the explosion. She had to take it easy until everyone forgot all about it!
When the motel burnt down and Meg sailed away I was distraught. I took it very seriously and even left my nursing job as I was too upset to work. I had grown up with the motel and Meg had become a strong maternal figure in my life. I truly felt as if my own mother had been ripped out of my life and my childhood home destroyed. It was a strange time. I couldn't bear to watch Crossroads regularly after that. The heart had been ripped out of my motel life. When it finally limped to an end in 1988 I had mixed feelings: relief and sadness. I hated what Smethurst had done to it. I set up the Noele Gordon and Crossroads Appreciation Society on the day the final episode aired. It was 'dedicated to the memory of Meg and her motel'.
Simon Cole joined me and for three years we regularly issued the Crossroads Chronicles. These monthly newsletters featured full-length episodes, written by the fans, taking the storylines from Episode 4510 and onwards. We axed most of the Smethurst characters and brought back the Hunters and Vera and Tish. We reintroduced Meg's sitting-room (our favourite set) and tried to maintain a feeling of nostalgia throughout. We made many Crossroads friends, including Tony Adams, and learnt much about the real Noele Gordon (I'm currently analysing her handwriting and am discovering a very private woman). The 2001 revamp was a mess. Continuity was a mess. Killing off Jill was ridiculous.
The 2003 revamp seemed hideous to start with but I detect echoes of the old days. Aspects have a 1960's feel to it, especially the Ethan Black storyline. Oona, Rocky and Virginia are classic motel characters and would not be out of place alongside Amy Turtle and Diane and Benny. The tinkly, almost inaudible theme tune is hideous. The original Tony Hatch music was heartrending, haunting and dramatic. I'm not joking when I tell people that it would bring me out of a coma, it's so invested with emotional memories for me. 'It's time to go now, darling. Goodbye.'
---
Simon Cole
Role: Original CAS Team Member
A Few Simon Facts: I was born in a little place called Stanford-le-hope in 1967 and spent the first 22 years of my life in and around Essex before Crossroads ended, and I escaped the family home, tempted by the bright lights of Bournemouth, where I have been ever since.
After nearly 20 years working in IT in and around London, I gave it all up last year and now run my own travel and real estate business, selling holidays and houses in Florida.
Memories: I grew up with Crossroads, and my earliest memories must be from around 1973, with some of those great characters; Carney, Mrs Whitten, Avis Tennyson, Jane Smith, Tish and Ted Hope, Vera Downend on her narrowboat, the deranged Rosemary Hunter, etc. I really started to take notice of the show around Meg's wedding, and then the kidnapping and death of Hugh Mortimer.
My all-time favourite episode was when Rosemary shot David in the office during a party at the motel (a scene we re-created in 1989 at the 25th Anniversary party, held at Stan Stennett's theatre, where the delightful Janet Hargreaves very sportingly sent herself up beautifully!) I began writing my own stories about the motel, featuring all the classic characters, and inventing my own. I spent hours every week writing when I should have been doing my homework.
Sadly most of these stories have long since been lost to the attic. I hit the terrible teenage years around 1980/81, when the whole world was against me (so I thought!). At my lowest point, I ended up in to hospital, and my whole life was turned upside down, but I was befriended by a big German nurse, who adored Crossroads, and who would make the entire ward stop and watch it at 6:35. I remember finding myself in this ward full of strangers, scared and alone, with a TV playing in the corner, and there were Meg and Jill, talking about Shughie McFee (he had been putting spiders in the trifle or something, I think) In my darkest hour, the one constant in my life on that day was Crossroads – safe and unchanging (well until later in 1981 of course!!) and it saw me through some horrible years.
From 1976 until the end in 1988, I managed never to miss a single episode. When the show began to die, I stuck with it more out of loyalty for a sick friend, than for actual enjoyment, but was really sad when it came off in 1988. Around the time of the last episode I saw John Kavyo (as he was then) on TV-am talking about the show, and the Appreciation Society he had set up, and I was so amazed and inspired by his enthusiasm that I got in contact with him, and soon began writing again for the Crossroads Chronicles.
Between us, and with the writing talent of many other contributors, we kept the story alive into the 1990s, met many of the cast, and appeared on countless programmes to promote the show and canvass for it's return. When work commitments became too much, Peter Kingsman took over the reins and kept the Society going long enough to see the show's return in 2001. I watched Crossroads 2 until Jill's death, and Adam's descent into crazed murderer, then switched off. I felt betrayed on behalf of all the thousands of fans who came to look on Meg, Jill and Sandy as family. I mean, why bring Jill back just to kill her off? Still, at least it was all a dream, wasn't it?
I admit to rather liking Crossroads 3, but it wasn't given time to develop, and I would have liked at least some references to the old show. I mean, those 1970s flashbacks during the last week would have been perfect. But where was the Motel? Where was Meg Richardson? King's Oak was a tiny village community, and Crossroads was at the hub of it all, surely those kids would have been running around the motel grounds, annoying the staff. Shame not to at least mention them in passing! We are so pleased to see the Appreciation Society name live on; it has now lived through two revivals on the show, and will hopefully go on long enough to see the next one.
---
Mike Garrett
Role: CAS Manager and Webmaster
A Few Mike Facts: I was born in Gateshead, Tyne and Wear in 1978 and have lived in Chester-le-Street, Newcastle-Upon-Tyne, London and currently Glasgow. My love of the old motel has seen me work in hospitality, from a receptionist to housekeeper and even assistant hotel manager – although no doubt not as efficient as Sandy Richardson.
I have been involved with the fan club since around 2001 but had always wanted to join it ever since I found out about it in 1994!
Memories: Well I think above all my first memory has to be the theme tune, which I think is maybe the greatest UK soap theme ever. Programme wise from around 1984 onwards, so looking back now I missed the "golden years" but still enjoyed the series until its demise in 1988. Obviously, the storylines from that era that I recall are Diane dying and Jill saying goodbye to Kings Oak and Adam Chance for yet another try at happiness with a new man in her life John Maddingham.
I also recall the criss-cross closing credits and trying to 'grab' them as they moved across the screen! Luckily I've managed to see some of the better years of the show from when it was at its most popular on DVD (and the fan club videos before that of course) and we have to thank UK Gold for the re-run of 1980s episodes. Crossroads was always on in our house so it was something that was always there, my gran being a fan of the show from 1964 onwards, and indeed I think Noele Gordon was responsible for many of her frocks. Choosing favourites from the characters is the hard part, but Motel Moustache – Adam Chance, Motel Bitch – Valerie Pollard and Motel Mogul – Meg Mortimer are three of my personal likes.
I've also grown fond of the utterly bonkers Rosemary Hunter and more recently found Tish Hope wonderful to watch. I think looking at episodes from 1985 against, say episodes of Coronation Street you can clearly see which show was slick, glamorous and way ahead of all the other UK drama serials for style and look. It was of course always a groundbreaking series, something to be very proud of, I'm not bothered about the reputation of wobbles or such as real Crossroads fans know that it was better than that. Crossroads was no worse than any other soap, maybe sometimes even better! Looking at soaps today they said that Crossroads storylines were way out of reality sometimes – how times have changed, the scripts from the motel soap seem tame compared to what is being created now. No one needs to apologise for Crossroads, its successes speak for themselves.
---
Peter Kingsman
Role: CAS Press and Media Relations officer in the 1990s and early 2000s
A Few Peter Facts: Peter watched Crossroads from the very first episode and became a huge fan of the show. In the mid- 1970s he met Noele Gordon when she was opening a local supermarket – a Co-op Store no less – and that was the start of a friendship which lasted until her death in 1985.
Peter through Noele became friends with many of the other Crossroads stars including Elizabeth Croft, Anthony Morton, Tony Adams and Joy Andrews. Peter also spent time at the studios and saw the programme being produced. Thanks to 'hanging out' with Noele and friends at ATV he also struck up a friendship with producer Jack Barton and many of the crew. When the fan club started these contacts became incredibly useful, with Jack and others donating their personal Crossroads collections to the club. Peter Kingsman became the face of the Crossroads Appreciation Society and has made the most television appearances for the fan club.
Memories: Peter has so many memories, and most will be saved for the forthcoming Crossroads Documentary 'Return to Crossroads' but one lingering recollection of Noele Gordon proves what a trooper and professional the lady was. In her last months suffering from Cancer, she took ill and collapsed while performing in a theatre production. She was taken to hospital and treated. Doctors ordered Noele to rest. However, she had an engagement in at a theatre with one of the many charities she supported to read a story to needy children at one of the theatres.
Against the medical advice, she decided she couldn't let the children down and went to do the performance. She couldn't walk and had to be carried onto a seat on the stage, but she completed the reading and entertained her audience. It was her final performance but proved what star quality the lady had.
---
Douglas Edward Lambert
Role: Researcher and Features co-writer
A Few Douglas Facts: Doug is a fan of the new Carlton series of Crossroads, and enjoyed both new series of the soap from 2001 and 2003. When the series was axed by ITV Doug joined the Crossroads 2003 and Beyond fan fiction group, which was started by Norman Hayes.
Later Doug and co-writer Nick Beat took over the group and today its a great big site celebrating new Crossroads from 2003 and the fan fiction continues too. Through the DVDs Doug has also experienced the original Crossroads and has become a fan of the sinfully nutty Rosemary Hunter.
Doug in the past has worked on several magazines, including an award-winning student publication. He is also a successful actor, having appeared in theatre productions from the age of 6, and has also appeared in short films and several music videos. Along with acting Doug enjoys scriptwriting, and has written several of the films/plays he has appeared in.
In 2006 he joined ATV Network Limited to work on their online news publication. Since 2013 Doug has also turned author and has a number of books published on Kindle under his own name and other identities!
---
John Drury of Crossroads 2001
Role: Maintains the independent 'new Crossroads' site Crossroads 2001.
A Few John Facts: Although my site concentrates on the 2001-2002 series, I was a fan of the original series. I remember the likes of Adam, Jill, Meg, Benny, David and Barbara Hunter, Miss Diane, – Then later Bomber Lancaster, Nicola Freeman, and Mycroft.
Although I was only young, I remember the Great Fire of King's Oak – Mum was a fan so I watched with her and I remember thinking how important it was at the time. I come from the West Midlands, and I remember feeling that Crossroads was MY soap – in a way that the Northern Coronation street or Southern EastEnders wasn't. My favourite characters back then were Adam and Jill and I remember distinctly how annoyed I was in 1988 when Jill left Adam for John Maddingham.
Who'd have thought that 13 years later they would be getting married again? But back to 2001 – My favourite characters? – Still Adam and Jill of course! – but now I had the likes of Kate Russell and Rocky Wesson to add to my list. When I heard the music I remember being really excited – I'd already watched the animation on the official site so many times – and recognised all of the characters. Ultimately my excitement at the show's return was not to last, and after only a couple of years Crossroads was once again off our screens – however with the demise of the show came the impetus to document its short history and that was the start of the task that has so far taken over 7 years.
Along the way, I've made some good friends and had the chance to talk with cast and crew about their experiences on the show. It also rekindled my interest in the original series – but that's a story for another time!
Since 2010 John has also been on a mission to find as many of the Crossroads locations as possible. The list is now quite extensive with finds including Walford Hall (original motel), Baschurch (original village) and two of the Crossroads Garage locations.
Other CAS Team Members Past and Present: Scott Curtis | Glen Reeves | Elizabeth Garrett | Alex Loveless | Tom Dearnley-Davison | Ian Westhead | Tony Wilson | Ian Armitage | Stephen Cove | Michael Cooke | Maria Brabiner | Anthony Garton | The fan club is grateful for the assistance from those current, and previous, who have helped create this site and further the society.