ATV Network was proud to promote the fact that Crossroads was the first soap with real social awareness.
The ATV Midland production from the outset decided that by reaching millions of viewers it could "do good" in the real world as well as in the fictional world of Kings Oak. The crew helped many good causes over the years by introducing topical storylines from time to time.
In many cases, this also went on to help in the real world. One high profile 'good cause' being the founding of a Birmingham hospital ward funded by ATV and Crossroads viewers. It was designed especially for kidney care following a 1977 storyline surrounding one of the main characters undergoing a kidney transplant. Crossroads truly is the only soap that really has changed the world for the better – and it's mainly thanks to the Caring For Carers scheme.
In 1974 ATV Network Limited and the Crossroads production team helped found what would become the biggest leading voluntary sector provider of home-based breaks for carers in the world.
The needs of carers first came to the attention of producer Reg Watson as a result of the storyline involving the character Sandy Richardson, who was left paraplegic after a car accident. Sandy had been a regular in the show since 1964, and viewers followed his lifestyle change from being a fully able-bodied former to having to depend on the care of his mother.
Many hours of research were carried out by the Crossroads production team before the storyline went to air at the Robert Jones And Agnes Hunt Orthopedic Hospital at Oswestry and the Stoke Mandeville Hospital in Buckinghamshire to make sure Roger's performance as Sandy was as authentic as possible. Noel Crane, who had become a wheelchair user after a swimming accident in 1970, telephoned ATV to offer more advice after seeing an episode of the programme.
Reg Watson met Noel and took on board many additional points of interest following the discussions with Noel. From this meeting, the scriptwriters devised another character, based on Noel's experiences. Tony Scott was to be a friend of Sandy with actor Peter Graham playing the part.
An ATV Network press release at the time of the storyline noted: "The idea is to show viewers that Handicapped people value their independence and also the devoted care given to them by their relatives." Despite the hours of research beforehand folklore has it that Sandy would eventually walk, possibly from wishful discussions between scriptwriters. However, Sandy was never destined to walk again as noted in an interview from the time with producer Reg Watson.
Reg made it clear from the outset Sandy's injuries were a "forever" situation with the character.
"Everything is carefully researched to make sure we have no inaccurate impressions given. For example, when Sandy had the accident we argued for a long time about whether he would really have let someone who was obviously drunk take over the driving. We were talking to one of the surgeons at Stoke Mandeville Hospital, which were our source of information for the spinal injuries, and he said 'The same thing happened to me, only luckily we did not have a crash."
"We had to take the whole storyline very seriously, we also had advice from ATV's own Dr Richard Hudson- Evans and the Robert Jones And Agnes Hunt Orthopedic Hospital. We had to make sure that the actor, Roger Tonge, realised it would mean sitting in a wheel-chair for the rest of his time in Crossroads. Yes, it would have been wonderfully dramatic if suddenly he could stand up and walk, but we knew from the start medically that just cannot happen, so it will not happen. Crossroads is about people, real everyday people, so it has to be real we cannot cheat." – Reg Watson 29th June 1973 to reporter Edwina Tarpley
Some of the scriptwriters early on had pondered finding a cure, a resolution, however, following the initial storyline, Dr Wendy Greengross was hired by Crossroads as the shows medical advisor to make sure all future debate on Sandy was accurate and the 'miracle' of walking again would not happen. When Noele Gordon, the actress playing Sandy's mother and carer, was due to take a months holiday the scriptwriters were faced with the dilemma of who would look after Sandy.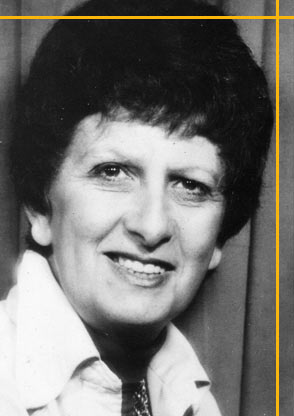 This they soon realised was, and indeed still is, an issue faced by many carers who have no other help with their caring duties. It was Noele herself who started the wheels rolling for ATV to 'do something about it'. At the time of the story no government-funded assistance was available, nor was there any charity offering support.
In the show, Meg helped launch a fictional Caring for Carers scheme. Letters and phone calls to ATV soon were asking about the service. Concerned that there wasn't any help open to the viewers contacting ATV Noele spoke with the studios' medical advisor Dr Richard Hudson-Evans who backed her suggestions of turning the fictional Caring for Carers scheme into a real service.
The organisation would be tasked with providing relatives with the opportunity to take a break from caring for their loved ones. Noele, Dr Richard and producer Reg Watson approached ATV Network Senior Director Leonard Mathews who agreed for the television company to make funds available for a pilot scheme. The initial trial service would run for two years in Rugby, Warwickshire, launching in 1974. ATV invested the founding £10,000 to establish Crossroads Caring for Carers.
In the first year of operation, Crossroads Care supported just 28 families. Miss Sankey, the then-District Nurse Tutor for Warwickshire, was given the task of coordinating the Rugby scheme while Leonard Mathews became the Chairman of the Trust. Professional Home Care Attendants were required, a role that simply hadn't existed previously.
In order to find the right team special feature reports were broadcast on Midlands news programme ATV Today, as well as detailed job adverts in the local press. Following thousands of applications, many interviews were held to find suitable candidates, and by the end of that first recruitment drive, five care attendants were hired.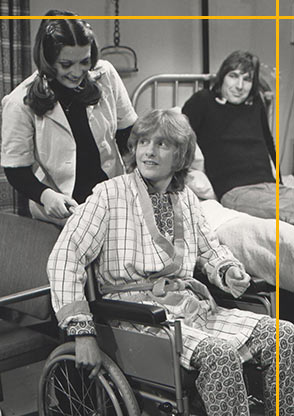 Miss Sankey provided the recruits with basic nursing and care training. In the first two, ATV funded years, over three thousand visits were made by the carers.
The Crossroads Care Attendant Scheme became a national organisation in April 1977. In the same year, the EEC made a grant of £100,000 for a research project into housing for disabled people. This project was undertaken by the Crossroads Trust, with a contract being issued by The Department For Environment. The first care scheme began in Scotland in 1978.
Sandy continued to be seen in Crossroads up until the actor's death in 1981. Roger Tonge's on-screen persona proved popular with young disabled people, many hundreds writing to him every week to thank him for portraying an 'everyday disabled person' on-screen. Sandy wasn't a token wheelchair user. His disability was rarely, after the initial caring scheme plot, an "issue" within the show. Instead, Crossroads producers showed Sandy leading an everyday life – as assistant manager of the motel, various romances and even joining The Samaritans to help others 'less fortunate' than himself.
The story may have long ended, but its legacy continues. Crossroads Caring for Carers, 2010 figures showed that the charity supported around 200 member schemes throughout England and Wales. There are over 33,000 carers and they spend over four million hours a year providing their services to the venture. Many of the outlets have grown to provide additional services including Young Carers projects, holiday play schemes for disabled children and care for the terminally ill.
All of the regional Crossroads Care schemes operate as independent charities and worked within a national framework of the Carers UK organisation.
Despite the national unified brand each 'Caring for Carers' region individually raise their own funds within the local area. In 2012 the organisation was expanded when Crossroads Care joined forces with the Princess Royal Trust for Carers which had been founded in 1991.
The two bodies formed Carers Trust, however as previously the Crossroads Care services continue to offer services under that brand – with some even reverting to the Crossroads Caring for Carers name.
It is quite ironic that Ivor Jay, the long-serving script editor on Crossroads, should in his final years be assisted by the organisation that through his scripts he helped create. Ivor before joining the saga had been a regional newspaper reporter who in 1964 proposed to ATV a 'boarding house serial with two sisters' which was developed into Crossroads.
The fan club and Crossroads cast are still closely connected with the charity, Jane Rossington visited Crossroads Scotland in 1999 to film a TV appeal to mark their 21st anniversary and has supported several fundraisers, while we continue to support the cause with various occasional fundraising events or products.
To find out more, or support the Crossroads Fan Club's associated branch, please pop over to Crossroads Caring for Carers Worcestershire website or Facebook page.