Video Clips concerning the Crossroads Motel.
Remembering Jean Bayless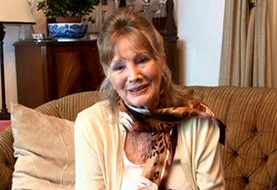 A video celebrating Jean Bayless who died recently aged 88. Jean was the delightful Cynthia Cunningham in Crossroads from July 4th 1972 through to the end of February 1974.
Here Jean talks about how she got the role of Cynthia in Crossroads, Reg Watson's inspiration for her being one of the kitchen staff and her friendship with Noele Gordon that reached back to the London Palladium in 1951.
---
Tony Adams opens the Crossroads Care information point
Tony, who played Adam Chance in Crossroads is the patron of the branch in Worcs that has acquired a former BT Payphone and turned into a Crossroads Caring for Carers info point.
The event was attended by Caring for Carers staff, dignitaries, BBC Local Radio, BT representatives and members of the Crossroads Fan Club.
---
Remembering Janet Hargreaves
Janet, the utterly unique Rosemary Hunter, lit up the Crossroads Motel with her scathing put-downs and witty remarks for a decade. Here we celebrate the role she made her own as she reflects on the catty Rosemary and her storylines.
Janet also ponders what would have happened to Rosemary once she left Kings Oak that final time.
---
Remembering Carolyn Jones
A feature-length tribute to the actress behind Sharon Metcalfe, of the Crossroads Motel garage. Carolyn talks about how she got the role in Crossroads, some of her storylines including the ground-breaking Downs Syndrom plot with Nina and how Crossroads was put together, including the telephone's important role.
---