Judy Matheson in the late 1970s played Hugh Mortimer's secretary Vicky Lambert in the serial, who he tried to woo into an affair.
One of his heart attacks however got in the way of any attempted romance. She was also one of Sandy Richardson's girlfriends.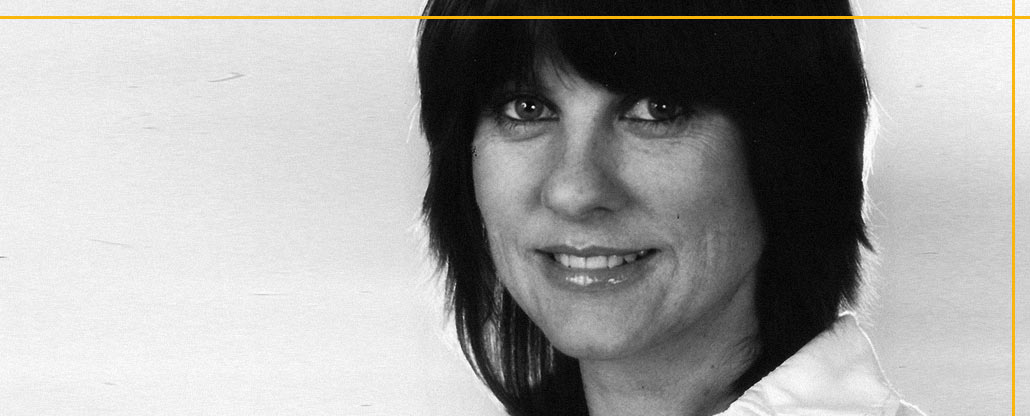 You played the part of Vicky Lambert, in Crossroads, can you tell us a little of how you came to take on the role?
Well, I auditioned some months earlier for another, smaller, role. I wasn't thought right for that, but some while later was offered, Vicky. I was delighted!
Were you aware of the soap before you joined? Did you ever watch it?
Yes, I was very aware of it and watched it when I was able to. I was actually quite a busy actress at that time.
What was it like working for ATV in Birmingham?
It was huge fun. The atmosphere was terrific, both in the rather dingy rehearsal room we rehearsed in and at the studios on recording days, which were also quite tense for everyone.
Was the time on Crossroads a happy experience, do you have any fond memories from that era from behind the scenes?
It was tremendously happy. I made some good friends on the show. Lynnette Mcmorrough was one, and Sally Adcock another; Ronald Allan was very witty and he and Roger Tonge would make us laugh a lot during rehearsals. We would have a lot of fun.
Do you have a favourite storyline from the series?
Vicky was quite close to Hugh (John Bentley) and he being a ladies man did try to snog her, but suffered a heart attack before anything could happen… But it was Sandy (Roger Tonge) who was her main love interest. I enjoyed being part of the Mortimer household, and "working" for the Mortimers as secretary. And I loved all my scenes with Roger. (Sandy)
Tell us about Vicky, how she came about and was she anything like yourself?
Well, I think the writers thought it was time for Sandy to have another girlfriend. Roger was quite wary of me when I first started because I don't think he was all that keen on playing "romantic" scenes. But then we became very close friends and he relaxed a little! I was very flattered that the producers brought in the very glamorous Dawn Adams for just one week to be my mother and to sort of introduce the character.
Vicky was quite similar to me, in as far as she was quite posh(!) and very strong-minded!
Playing Sandy's Girlfriend you had many scenes with Roger Tonge, What was he like?
He was quite simply one of the nicest, and most interesting, people I have ever met.
The Mortimer family were the main characters in Crossroads, what was it like working alongside other already well-established actors in the series such as Noele Gordon and John Bentley?
Well, they were, of course, very professional to work with. When I first joined the show, everyone was extremely kind and welcoming, and John Bentley took me out for dinner a few times, just to get to know me a little so that we would work well together. And I think we did.
How much input did the scriptwriters give you to your character?
The schedule was extremely tight. You were given your script each Monday and by Tuesday it had to be learnt. All quite intensive, and very hard work, so not a lot of time to change things, though I remember the directors were always very accommodating if there was anything one wanted to change.
How did you come to leave the show?
It was always a fixed contract for a certain number of months, but actually, how I left I can't remember, except I can recall doing some fairly emotional scenes with Roger, and of course those are some of the scenes I'd love to see again*.
Who was your favourite character? And why?
That's a difficult one. I liked so many of them. I suppose I must say, Sandy, because I had so many of my scenes with him, and he was so different from the actor who played him.
Who was your favourite actor to work with or watch work?
Once again, it must be Roger, but I also loved working with Edward Clayton, who was a lot of fun, and also a fine actor.
The series was loved by the viewers, and hated by the TV critics, why do you think this was?
I think the public loved it because the characters were well-drawn, and acted, but I think some of the production values were perhaps not as high as they could have been.
Were you surprised when Crossroads was eventually axed in 1988?
Well, after Noele Gordon left, I think a lot of the impetus was lost. She bought star quality to the show.
You've also appeared in many other television productions, in what is now considered the 'golden age' of British TV, do you think television is better now or was the 1970s really golden?
I think television has definitely improved overall. But some of the earlier shows are hard to beat! What is the highlight of your time on Crossroads? I just remember my time in Birmingham as mostly enormous fun, and the people, cast and crew, were very supportive. And I really enjoyed staying in that much-maligned city.
*Unfortunately, it was discovered all of Judy's episodes had been wiped by ATV.
---
Interview arranged by Stephen Bourne for the Crossroads Fan Club, 2007.
---