Terence Rigby joined Crossroads in 1986 as the new motel owner, Tommy 'Bomber' Lancaster.
A brash Brummie, former RAF, he set about taking the motel upmarket; turning it into the Kings Oak Country Hotel which was part of his family-run business, Red Ox. Terence talks to the Central Press office in 1986 and 1988…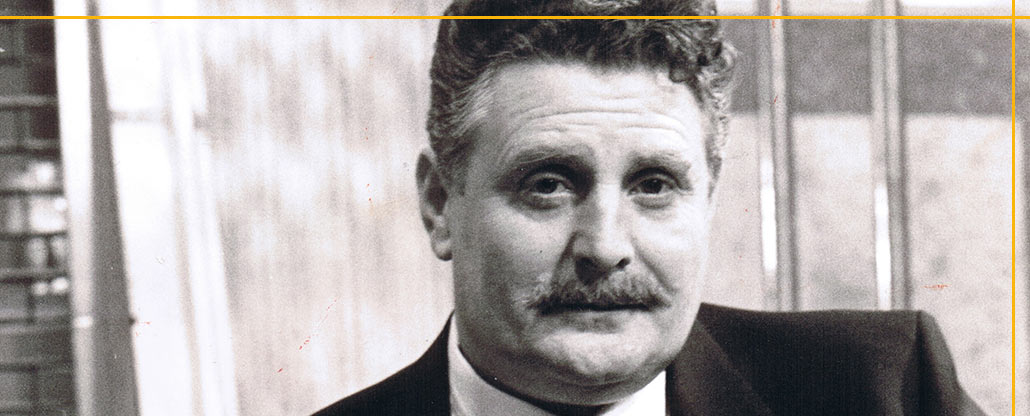 How did you get into acting?
I became interested in performing quite early in life and dabbled in acting on an amateur basis with the boy scouts and later while I was with the Royal Air Force. In the late 1950s, I auditioned with RADA (Royal Academy of Dramatic Arts) and failed! Luckily for Crossroads, I succeeded to gain a place after the second audition.
Was acting professionally your first job?
In 19… I forget the year, deliberately, I trained to be a surveyor and later quantity surveyor. I also worked on building sites as a labourer and hands-on jobs like that for a time, factory work that sort of thing. But all the while also performing on an amateur level too in the theatre.
When did you take your first steps towards a professional acting career?
The early 1960s when I joined Repertory theatre in Antony and Cleopatra at Birmingham Old Rep. That was a challenge; A play every fortnight.
Why did joining Crossroads appeal to you?
Curiosity really. I've worked in most television drama formats over the years, but soap opera in the form which Crossroads takes was an acting area that I hadn't ventured into previously. I also liked the fact it is a world which never stops, it rolls along at such a pace every week brings fresh stories.
What has the viewer reaction been like?
I couldn't believe it at first. I'd be quietly minding my own business, walking along the street and some giant hairy navvy would yell at me, 'Bomber, you bully! Stop picking on Darby' I was really surprised at his reaction.
The myth was that Crossroads was only watched by housewives, but this bloke obviously knew the storyline. Of course, he's not to know that Patrick Jordan who plays Darby is a close friend off-screen. He was a wonderful uncle figure to the whole cast and responsible for maintaining the high morale of the show.
How did you feel when you heard Crossroads had been axed?
Shocked. …At least in a few years time, I'll be able to walk past building sites without workmen abusing me!
How would you sum up your time on Crossroads?
Hard work! It'll be a relief to escape the punishing schedule; we worked for five and a half days each week. You can't imagine how hard it is to record four episodes a week. I didn't realise how much work it was until I joined. Although ITV only aired three a week we've always produced four per working week.
Are there any storylines you were looking forward to that now won't air?
The love scenes with Gabrielle Drake. She'd just signed up to return as Nicola when the mighty axe swung. And I'd just finished discussing with the set designer and producer how we'd like Tommy's new oak-panelled office to be furnished! I'm giving little away but it would have raised a few eyebrows, especially Jill's!
Future plans?
Hopefully plenty of work, I'm appearing at the National Theatre while Crossroads airs its last few episodes. I've managed to juggle recently an appearance in Tony Palmer's film Testimony as Stalin and made my debut at Wimbledon as a tennis umpire. So work hasn't dried up, thankfully. I couldn't miss both opportunities. I've played Stalin three times and I decided to take the part again as I wanted to work with Tony Palmer and Ben Kingsley.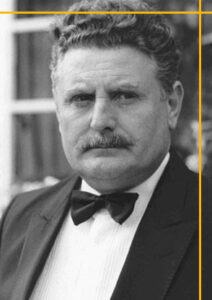 This year [1988] I'll not be able to take part in Wimbledon. When I finish at the National in the summer I'll have to rush off to work in another popular television series, but I can't reveal which one yet. But at least I shall be able to be the assistant referee at the LTA Paddington Tournament in May, where for the past three years I've worked alongside Alan Mills, the Wimbledon referee.
Crossroads is fully wrapped now?
Yes, we did the last studio recording on December the 17th last year.
Any hints to how it ends?
Hint? All I can say is Chef really shouldn't have left the gas stove on overnight… No in all seriousness there is no huge explosion, or flood or demolition or anything nasty. I think the producer has left the door open should we all be employed by BBC Two!
Do you think there is life in the old soap yet then?
Kings Oak is a great idea for a serial, we have soaps about the south and the north – the midlands should remain represented.
I know many were sad to see the Crossroads Motel go, but we have to move with the times in both the real world and the drama. The change to Kings Oak you approved of?
Absolutely! If you mentioned the word Crossroads, people either think of Noele Gordon or the mythical wobbly sets. It needed to move with the times and shake off both shackles, not that Noele's legacy should be forgotten. I'm not saying that of course. She's rightly one of our greatest serial figures.
But it was such a success back then if we remained as Crossroads we would forever be compared to her past glory and end up stuck forever in the shadow of the 1970s. And really if the programme had stayed the same and tried to replicate that success then it would have become dated very quickly, and I think it did become a television antique, out of date production values, before the modernisation a year before I arrived.
With Crossroads ending before the festive season, you must have enjoyed a well-earned rest at Christmas?
I didn't have time to rest, I was offered the part of Pozzo in Waiting for Godot at the National Theatre. So I spent Christmas learning my lines.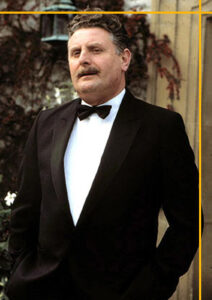 Will Crossroads be a happy memory?
I enjoyed my time with Crossroads. I am proud of what we've done, and I am sad that my time as Tommy has been cut short. The show gave me an opportunity to lead a company of actors on television for the first time. I was delighted to be involved with such a talented group of actors. I am indebted to Jane Rossington and Tony Adams for their support when I came into the programme as the motel's new boss.
As a marvellous spin-off to the programme, I was able to spend a wonderful time with my family, twenty-five years after leaving home in Birmingham. And I was able to find time to go for long walks in the beautiful countryside around Upton on Severn in Worcestershire where I had been evacuated as a child during World War II. Wandering around the village brought back memories of my first days at school there and my first theatrical performance reciting 'I had A Penny' by AA Milne.
Who would have thought that little boy would go on to work at the Royal Shakespeare Company and at the National Theatre?
---
Interviews by the Central Press Office, courtesy of Carlton Archive.
---