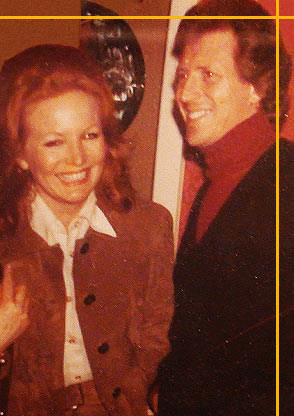 Johnny Briggs dies: The performer is best known for his legendary role of Mike Baldwin in Coronation Street.
"It is with great sadness that we announce the death of our father, Johnny Briggs. He passed away peacefully this morning after a long illness, with family by his side. He was 85. We politely ask for privacy at this time, so that we can quietly grieve as a family and remember the wonderful times we had with him. Thank you." – Briggs' family statement
Johnny appeared in numerous film and television roles over the years including three Carry On movies, a long role in ITV's police drama No Hiding Place as Sergeant Russell, and in 1972 joined the cast of ATV's Crossroads as initially waiter Clifford Layton who was an ex-con, who came to work at the motel and was trying to start a new life. However, some of his old friends had other ideas and it wasn't long before he was dabbling in iffy deals.
Briggs joined Crossroads in episode 1797 – only a few weeks after the series had become 'nationwide' with Granada and Tyne Tees picking up the show. The programme continued to air at different times and dates on ITV, however, this was the first time it was seen entirely across the country and saw the show finally arrive in ITV's Top 20, by the time Johnny left the show in 1974 it was at the top of the ITV Top 10.
"Do you use linen or paper serviettes" – Clifford Layton's first line
Helping Crossroads draw in the viewers – up to sixteen million – for nearly 400 episodes was Johnny as Clifford who in the plots wooed Diane Parker (Susan Hanson), following her separation from Vince (Peter Brooks), as well as becoming involved as a shareholder in the Crossroads Motel Garage and also opening up his own Layton Taxi company. Helping him go from waiter to businessman came via money 'won' in a dodgy scheme at a corrupt Casino that he also took a shady interest in.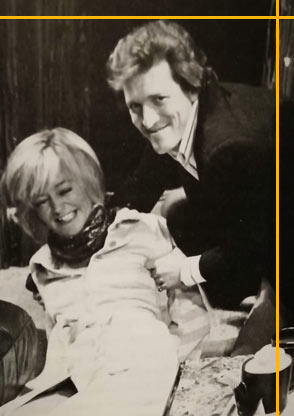 "It was when I was in Crossroads playing taxi firm boss Clifford Leyton that the Coronation Street producer, Bill Podmore, wanted a Londoner. He said to the Crossroads producer, Jack Barton, 'That Johnny Briggs, is he alright?' Jack said 'Yeah, he knows his lines, he turns up to the set on time,' so I was asked to do it and I said 'Ok, I'll do three months.' Then the years have just crept up.." – Johnny Briggs, speaking to the TV Times in 2006
In his final episode, 2232, a scam with forged German banknotes goes wrong when in the process of moving the money from Casino to lorry snooping Martin Bell (Christopher Douglas) is injured (by one of the other gang members crowbarring him over the head) leaving Clifford torn between helping him or driving away with the money, he chooses to assist, also calling the police knowing the game is up and thinks informing may lead to a lesser sentence.
Later he discovers gangster Mr Johnson (Francis de Wolff) – the mastermind of the plan has taken Diane and her friend Vera (Zeph Gladstone) hostage – he and Martin, along with two police officers, brave the gun-toting Johnson to save them and Clifford says farewell to Kings Oak.
After Crossroads Johnny headed over to Manchester to join Granada Television's Coronation Street becoming the love-to-hate character of Mike Baldwin, businessman, and lothario. He would stay with Corrie for 30 years, becoming one of its most popular performers.
"The whole Coronation Street family is deeply saddened by the death of Johnny Briggs. For years Johnny was right at the centre of the show, playing the part of Mike Baldwin and bringing to the role huge energy, dynamism, professionalism, and credibility. When Mike Baldwin was in a scene it was very hard to look at anyone else.
"And it was that charisma which made him irresistible to the women of Coronation Street, and to viewers. He truly was one of the most iconic characters the Street has ever known. We wish Johnny's family all our condolences." – John Whiston, MD of Continuing Drama, ITV

---