The Young Doctors is finally coming to DVD as Darren Gray reports.
After decades of campaigning by cast, crew and fans the news has broken that the first 250 episodes of the hit Australian medical drama The Young Doctors are finally going to be released on DVD on the 16th June.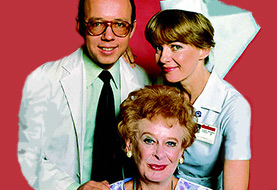 The Young Doctors followed the lives and loves of the staff and patients of the Albert Memorial Hospital where kiosk attendant Ada Simmonds (Gwen Plumb) kept the gossip, coffee and curried egg sandwiches flowing.
The programme became the longest-running commercial television drama in Australian television history when it took the title from Number 96, and it was the first Grundy serial to sell internationally. The Young Doctors was a ratings smash in the UK and it knocked The Benny Hill Show off the number one spot in New Zealand.
Lots of your other favourite cast members return in these episodes including Kim Wran, Ros Wood, Judi Connelli, Brian Moll, Mark Hembrow, Greg Apps, Anne Lucas, Judy Lynne, Anna Hruby, and Barry Creyton. Other familiar faces turning up at the Albert Memorial include future movie star Russell Crowe, Abigail from Number 96, Noel Trevarthen from Carson's Law, Brian Wenzel from A Country Practice, Richard Meikle, and Willie Fennell.
The series was created by Crossroads producer Reg Watson.
You can pre-order The Young Doctors Collection One now from the Via Vision website.
---
A more detailed feature on the DVD release can be seen at ATV Today