BritBox opens the doors to the Crossroads Motel.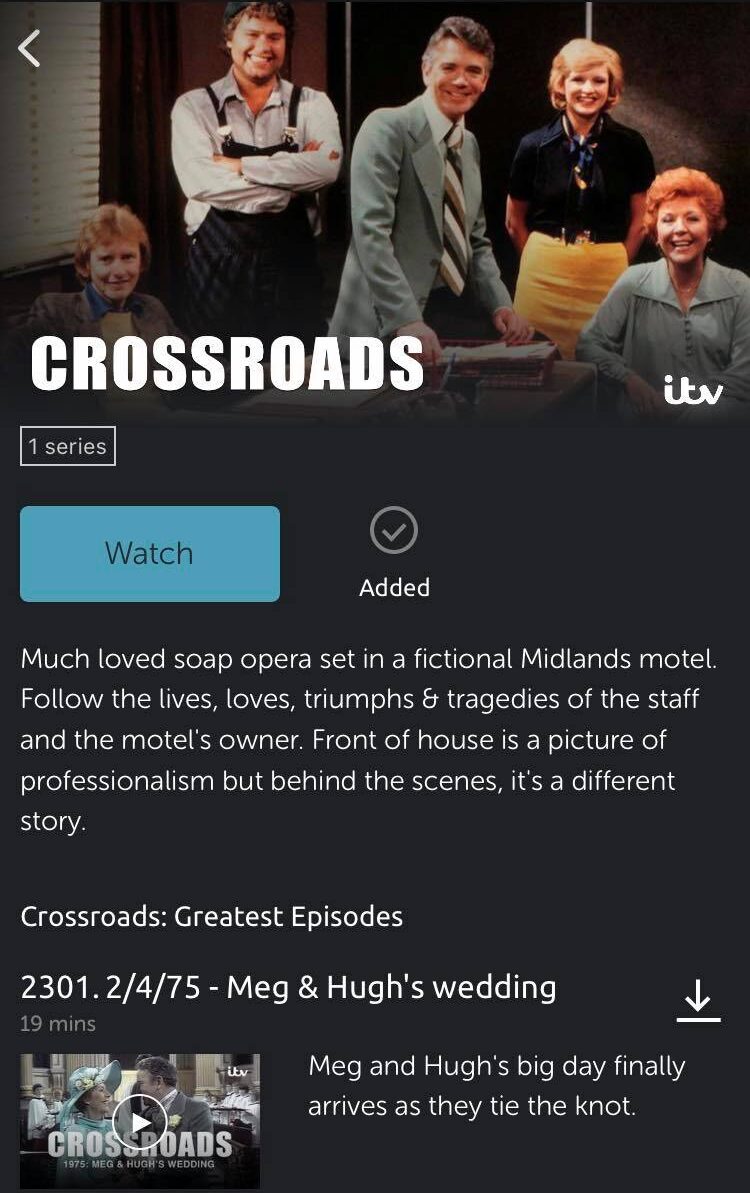 Updated 23/07/2021
And its been a hit with soap fans already on social media. Earlier today a host of 'classic soap' burst onto BritBox as the streaming service expanded their SoapBox offering.
For fans of Crossroads, the motel is back in business, but there is also a large helping of Tony Adams in ATV's medical saga, General Hospital too.
And there's also plenty more drama with the legendary Brookside, everyday life in rural highlands in Take The High Road, sunshine soap Eldorado set in Los Barcos and emergency ward action in Casualty.
These latest additions to SoapBox join already established classic editions of Emmerdale Farm, Emmerdale and Coronation Street.
---
Crossroads on Britbox
Big Episodes
Episode 2301 from April 1975 – Meg and Hugh's big day finally arrives as they tie the knot and bring Birmingham to a standstill.
Episode 2868 from December 1977 – Benny, Carney and Jane rush to the hospital after Maureen is hit by a car. Jane confesses to Sandy that she's having Anthony's love child. Sandy brightens the mood by announcing his engagement.
Episode 2869 from December 1977 – Sandy is still basking in the glow of his engagement announcement. Kate is pleased with herself when Tony asks her out for a meal. Carney and Ed try to cheer Benny up but fail miserably when he announces that Maureen has just died.
Episode 2870 from December – Carney and Ed are concerned for Benny's mental state. Benny visits Maureen's family to break the bad news. Kate asks David if he minds her getting a second job at the casino.
Christmas Memories
Episode 2660 from December 1976 – David gets frisky with Vera when he discovers her wearing a mistletoe brooch. Benny regales the house with a burst of God Rest ye Merry, Gentlemen while Stan gets a turkey-related shock from Jim.
Episode 3069 – from December 1978 – Christmas day in Kings Oak sees the residents gather at the village church for their festive celebrations. Helen Booth, however, is in a far from merry spirit. Adam Chance and Jill Harvey meet for the first time.
Episode 3235 from December 1979 – Meg Mortimer sings for the motel staff and friends in this Christmas day edition.
End of an Era
Episode 3530 from November 1981 – David and Meg reach a parting of the ways. The motel is engulfed in flames, a day before bonfire night.
Episode 3531 from November 1981 – The motel management and staff are reeling at the destruction of the Crossroads Motel. Meg is feared deceased.
Episode 3533 from November 1981 – Jill gets an unexpected call, that sees her rushing to Southhampton. David begins to worry about Jill's state of mind. Meg makes a surprise return from an assumed firey demise on the QE2.
---
General Hospital on Britbox
Episode One (1972 series) Billed as the very first visit to the Midland General. (daytime half-hour version). However, from information and synopsis, this actually appears to be episode 126 from December 1973 and not episode one from August 1972. Episode 126 features Thomas Heathcoate best known as Uncle Ed Lawton in Crossroads. Episode one features Peter Hill, best known as Arthur Brownlow in the motel saga.
Episode Two (1975 series) – Featuring Tony Adams, Carmen Munroe and Tom Adams. The series has now moved from daytime to primetime and is extended from half-an-hour to an hour. This edition 'Due to Natural Causes' sees an investigation into a death while the hospital awaits a VIP.
Episode Two (1976 series) – Featuring Tony Adams and David Garth. 'All Fall Down' A teacher on a day trip collapses in front of his pupils. Dr Bywaters has to find the cause.
Episode Two (1977 Series) – Featuring Tony Adams and Joanna Van Gyseghem. 'Spectre at the Feast'. A week before Dr. Bywaters wedding to Dr Pennington the couple are sent a 'funeral wreath' from her deceased husband. The episode ends with the wedding of Bywaters and Pennington and a special rearrangement of the theme tune.
Update: On July 22nd a further episode of General Hospital was added, 'Wheels and Deals' from the sixth series.