Wedding bells were ringing in Kings Oak on this day back in 1981.
It's forty years today since Kevin Banks and Glenda Brownlow said 'I do'. In the series, Kevin (David Moran) was a construction worker who wooed motel waitress Glenda Brownlow (Lynette McMorrough). It was the beginning of some big soapy storylines for the couple.
First of all, the couple struggled to conceive, and the storyline led to 'soap's first test-tube baby' being born in Crossroads in 1984. The storyline also the subject of punk group The Toy Doll's track Glenda and the Test Tube Baby. Lyrics include;
"Things were looking gloomy and Glenda she was sad, Kevin had been out with Carol Sands, but Glenda she thought surely, it can't be that bad if I had a baby…"
As mentioned in the lyrics, less than a year after their wedding Kevin began to have an affair with Crossroads Garage mechanic (soap's first female mechanic we should note) Carol Sands – JoAnne Good. The couple also had a real-life dalliance during their time at ATV. In the end Kevin and Glenda sorted things out and went on to have Katie Louise by test tube. The baby played by Lynette McMorrough's real-life daughter.
The baby 'went missing' when Doris Luke (Kathy Staff) was asked to babysit, unbeknown to Glenda, the ever proper and dependable Miss Luke was having a nervous breakdown and went wandering off with young Katie Louise.
Kevin also, as unemployment in the UK soared, struggled to find work, with several failed attempts at different jobs. In the end, job prospects in Canada saw Kevin, Glenda, and baby Katie Louise depart for sunnier charms in 1985. Glenda made a brief reappearance for Crossroads' 21st anniversary when she, along with Katie Louise, popped back to Kings Oak for the wedding of mum Kath (Pamela Vazey) to second hubby John Latchford (John Line).
In 2015 a clip of David as Kevin Banks featured in Russell T. Davies Channel 4 drama Cucumber – Kevin being noted as the soaps' totty in the programme. Below is the TV Times listing for the wedding day of Kevin and Glenda back in May 1981.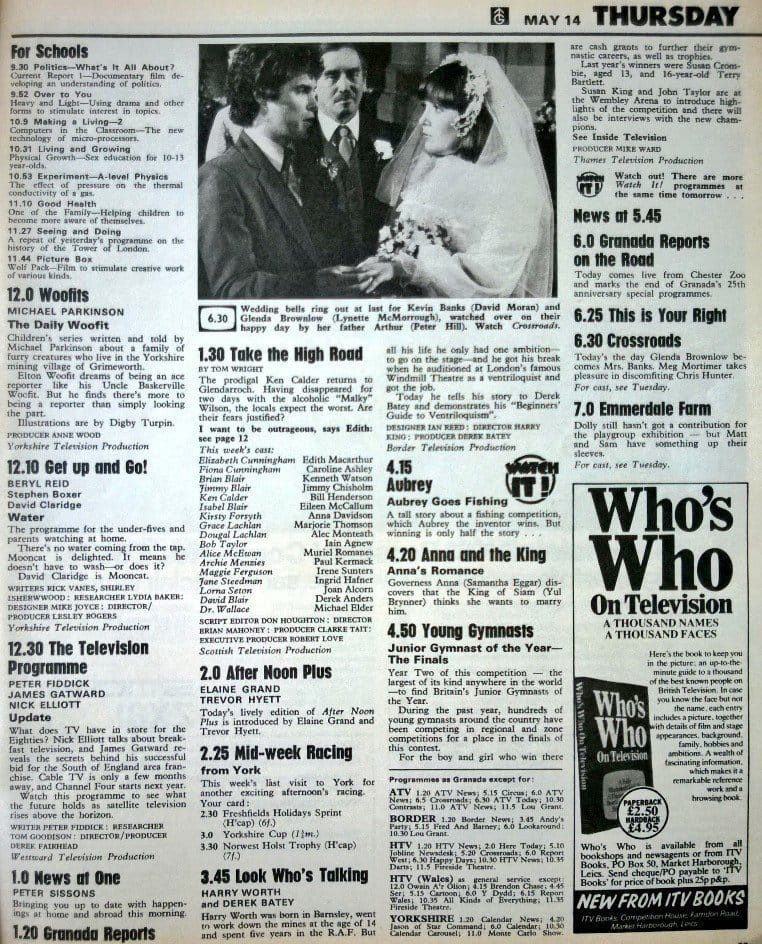 Scan by Graeme Wood @woodg31