Graham Rigby dies aged 94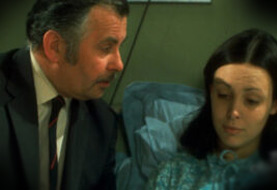 Graham Rigby was born on January 5th, 1927 in Ulverston, Lancashire, England as Alfred Graham Rigby.
He began his professional acting career in the 1950s, and was soon making the move from theatre roles to television when he landed his first on-screen part in Granada Television's agency-based crime drama series Knight Errant Limited. His 1960 one-off appearance was as a newspaper reporter.
However, with Granada in Manchester, he would have eight different parts in serial Coronation Street between 1961 and 1995. These ranged from his first small part as a criminal (1961) to bigger roles including the recurring Sid Lambert who popped up in Weatherfield between 1965 and 1970 across ten episodes notably as Weatherfield Athletic FC's chairman and as Archie Wardle who was RAF pals with Billy Williams, who in turn was an old flame of Betty Turpin. The pair popped in to the Rovers Return, and soon after Billy and Betty were finally married. (1995).
In 1964 Graham was cast in ATV's Crossroads as the dubious businessman Charlie Forward a role he would play intermittently between 1965 and 1979. He allowed Victor Amos to die of a heart attack in order to take control of the Night and Day car hire and conned money from punters in a horse racing scam. His softer side was briefly shown when he showed concern for stepdaughter Sandra Gould (Diane Keen) when she struggled back to fitness following an accident (pictured).
Other TV roles include in BBC One twice-weekly serial Compact – also devised by Crossroads' Peter Ling and Hazel Adair, ITV action series The Avengers, new town saga The Newcomers for BBC One, Yorkshire Television's Emmerdale Farm, BBC sci-fi series Doctor Who and BBC One rural sitcom Last of the Summer Wine.
Graham died peacefully at Queens Hospital Burton on April 5th 2021. The Burton Mail newspaper noted Graham was the 'dearly loved husband of Mavis Broughton, much-loved dad of Andrew and Susannah, dearly loved father in law of Sue and Vivien.'
Donations in memory of Graham, the family noted in the newspaper, should be issued to the Burton and Derby Hospital Charity dbhc.org.uk quoting ward 20.